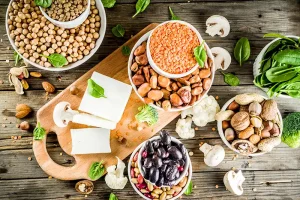 Learn the importance of protein for a healthy lifestyle and 10 vegan protein sources for a balanced and nutritious diet.
Plant-based diets have gone mainstream in the past several years due to their numerous health and environmental benefits. (1) This way of eating is also acknowledged as an ethical and sustainable alternative to typical Western-based diets. Plant-based diets integrate a variety of vegan protein sources, fibrous fruits and vegetables, and whole grains for a well-rounded diet.(1) Here are the key things to know, as well as ten vegan protein sources to focus on.
First and foremost, I can't talk about plant-based diets and vegan proteins without mentioning phytonutrients. These are powerful compounds found in plants. While phytonutrients are not considered essential nutrients like vitamins and minerals, they have been shown to have many health benefits.(2,3) 
They function as antioxidants, safeguarding cells against damage.(2) Moreover, they possess anti-inflammatory properties, can boost immune function, and also play a role in preventing cancer.(2,4)
Daily Protein Recommendations for all Diets
Your body requires a consistent supply of protein daily to maintain good health. On average, adults need around 0.8 grams of protein per kilogram of body weight.(27) So, for instance, a 60-kilogram (132 lbs) adult would require approximately 48 grams of protein each day.
However, these needs can increase substantially based on activity level, fitness goals, and body composition goals. Additionally, if you solely rely on vegan proteins for your protein source, your needs are likely higher as well.
Increasing Vegan Protein Sources for a Balanced Diet
There are a wide variety of plant-based protein options that you can tailor to your preferences for a well-balanced diet. These alternatives can be incorporated into a range of dishes, including chilis, curries, sandwiches, salads, and more.
Vegan protein sources provide protein along with a diverse array of nutrients and flavors that enhance the taste and health benefits of meals.(5)
Whether you follow a vegetarian or vegan diet or simply want to include more plant protein choices in your meals, the options below can help you create satisfying, rich dishes that contribute to your overall well-being.
10 Top Whole Food Vegan Protein Sources
Many plant-based protein sources may lack one or more essential amino acids, making them incomplete proteins.(6) However, by including a variety of plant-based foods in your weekly meals, you can meet your essential amino acid needs. There is no need to pair foods at each meal to make them complete. This list doesn't include popular plant-based protein powders – which deserves a discussion of its own!
Tofu
Tempeh
Beans
Edamame
Nuts
Hemp seeds
Chia seeds
Seitan
Chickpeas
Quinoa
1. Tofu
Tofu is a versatile vegan protein source made from soybeans. It has phytonutrients like isoflavones which have been linked to a variety of health benefits, like improving your immune system.(8) 
Incorporating soy protein into your diet allows you to enjoy its protein content while also benefiting from the diverse range of beneficial compounds. It can be baked, fried, grilled, or stir-fried to imitate the texture of meat in a variety of dishes.(1) 
Tofu Meal Ideas
2. Tempeh
Tempeh is made from soybeans that have been fermented, which gives it a nutty flavor and a firm texture. Steaming tempeh before use can change the flavor to be more neutral and remove the bitter taste. It is a good source of protein, fiber, and iron.(3) It works well in stir-fries, sandwiches, and marinated dishes. 
3. Beans
Beans, lentils, soybeans, and chickpeas are wonderful sources of plant protein that offer numerous health benefits. (9,10) These legumes provide protein and polyphenols, which are known for their antioxidant and anti-inflammatory properties.(11,12) These properties have the potential to prevent and also offer therapeutic effects for conditions like cardiovascular disease, neurodegenerative disorders, cancer, and obesity.(11) 
Legumes can also be incorporated into various dishes such as chili, soups, stews, and even used as a base for burgers.(12,13) Enjoy the nutritional advantages that legumes bring to your high protein plant based meals!
Bean Meal Ideas
4. Edamame
Edamame, also known as young soybeans, is a nutritious food packed with phytonutrients and protein. A half-cup of de-shelled edamame has around 11 grams of protein, making it an excellent vegan protein source.(17) 
In addition to its protein content, edamame is also rich in phytonutrient compounds such as isoflavones. (18) These compounds contribute to reducing the risk of breast cancer and cardiovascular disease.(18) 
Edamame can be enjoyed in a variety of ways, whether added to salads, stir-fries, or simply eaten as a wholesome and tasty snack. Incorporating edamame into your diet is a delightful and nutritious way to boost your plant protein intake and reap the benefits of its phytonutrients.
5. Nuts
Almonds, walnuts, or peanuts are not only delicious but also offer a wealth of nutritional benefits. These nutrient powerhouses are packed with protein and healthy fats, making them an excellent addition to a balanced diet.(5) 
Sprinkling these nutritious nuts on salads adds a satisfying crunch and boosts the protein content of your meal. They can also be added to homemade granola for a wholesome and energy-packed breakfast option. Or, opt for nut butter and spread it on toast or mix it into oatmeal.
Meal Ideas with Nuts
6. Hemp seeds
Hemp seeds are a good vegan protein source, containing 9.48 grams of protein per 3 tablespoons. They can be sprinkled on salads, yogurt, or oatmeal. Hemp seeds are a rich source of antioxidants, including phenolic compounds and phytosterols.
These compounds have been shown to lower the risk of chronic diseases, like cancer, neurodegenerative diseases, and lipid metabolism, and improve cardiovascular health.(19,20) They can also be ground into a powder and used in smoothies or baked goods.
Meal Idea with Hemp Seeds
7. Chia seeds
Five tablespoons of chia seeds contain 8.4 grams of protein, 17.2 grams of fiber, and 11.85 grams of polyunsaturated fatty acids.(21) They can be soaked in water and used as a vegan egg substitute. 
Bioactive chemicals such as polyphenols, carotenoids, and phytoestrogens, which are abundant in these foods, help to improve blood lipid profile by lowering blood pressure, blood sugar levels, and the risk of infection, as well as stimulating the immune system.(22) They can also be sprinkled on salads, yogurt, or oatmeal.(23)
Meal Ideas with Chia Seeds
8. Seitan
Seitan, alternatively recognized as wheat gluten, serves as a high-protein alternative to meat. (3) It can be enjoyed in a wide range of dishes, including stir-fries, stews, and sandwiches, adding a hearty and satisfying element to high-protein plant-based meals.
Thanks to its rich protein content, seitan presents itself as a favorable option for individuals seeking to incorporate more plant protein into their diets without compromising on taste or texture. Its ability to mimic the texture of meats makes seitan an appealing choice for those looking for a satisfying and protein-rich meat substitute.
9. Chickpeas, aka Garbanzo Beans
Chickpeas are a great source of protein and fiber.(21) Chickpeas have a diverse range of phytochemical compounds, including saponins, phytic acid, lectin, amylase inhibitors, bioactive peptides, sterols, dietary fiber, resistant starch, and the list goes on.(24) 
Scientific studies have indicated that these phytochemical compounds can help prevent and manage chronic conditions like obesity, cardiovascular diseases, diabetes, inflammation, and cancer.(24) Chickpeas can be used to make falafel, hummus, or veggie burgers. 
Meal Ideas with Chickpeas
10. Quinoa
Quinoa is a complete protein containing all essential amino acids.(25) Many people think that quinoa is a grain, but it is actually an oil seed. Quinoa's phytochemicals can fight free radicals and inflammation, which may have health benefits.(26) 
These benefits are particularly evident in reducing the risk of diseases associated with oxidative stress, such as cancer, cardiovascular disease, diabetes, and obesity.(26) Quinoa can be used as a base for grain bowls, salads, stuffed vegetables, or as a side dish.
Meal Ideas with Quinoa
Plant Protein Swaps – 10 Simple Ways to Eat Less Meat
Eating less meat can seem like a scary and difficult task. However, it's actually really easy (and much cheaper) to make some plant-based swaps using the foods above. The best part about plants is you can be creative with different combinations. Try these ideas for your next plant-based meal!
On salads, add beans such as garbanzo, kidney, or black beans in place of chicken. You can also try lentils, marinated tofu, tempeh or quinoa.
Add hummus, goat cheese, or feta to a sandwich with grilled veggies instead of deli meat.
Mix tahini or hummus with your favorite salad dressing.
Make a mock tuna salad with chickpeas by smashing chickpeas and adding mayonnaise and relish. For a vegan version, use avocado instead of mayo.
Eat bean and low-fat cheese burritos. Add salsa and spices (cumin, chili, garlic powder) to a pan then toss in crumbled tofu and black beans. Next, add to tacos or burritos.
Make your own veggie tacos made with canned refried beans (with oil, not lard) served with shredded lettuce, salsa, chopped bell pepper, onion, and guacamole.
Embrace tofu – it soaks up the flavor of whatever you are using it with. Add tofu instead of chicken or beef to your next Asian stir-fry. Check out Melissa's healthy living sweet cold tofu recipe (perfect for replacing chicken and/or cheese in a salad).
Swap out a traditional beef or turkey patty for a veggie, bean or Portobello mushroom burger. Still hungry? Go double-decker and add avocado and tasty spreads.
Falafel is a great Mediterranean vegetarian option made with garbanzo beans and spices. Use in wraps, on salads, or part of a grain bowl. Top with tahini for a flavor and protein boost!
Take Home Thoughts about Vegan Protein Sources
Whether you follow a vegetarian lifestyle or simply aim to incorporate more plant-based protein options into your diet, these alternatives can help you create satisfying and high-protein plant-based meals.
By diversifying your vegan protein sources, you can ensure that your body receives the necessary amino acids and other essential nutrients to support optimal health and well-being. Enjoy exploring the world of plant-based proteins!
References
Lynch H, Johnston C, Wharton C. Plant-Based Diets: Considerations for Environmental Impact, Protein Quality, and Exercise Performance. Nutrients. 2018; 10(12):1841. https://doi.org/10.3390/nu10121841
Drewnowski A, Gomez-Carneros C. Bitter taste, phytonutrients, and the consumer: a review. The American Journal of Clinical Nutrition. 2000;72(6):1424-1435. doi:https://doi.org/10.1093/ajcn/72.6.1424
Bosse A. Where Do You Get Your Protein? A Helpful Guide To Plant-Based Protein Options – Cooperative Extension: Food & Health – University of Maine Cooperative Extension. Cooperative Extension: Food & Health. Published June 17, 2021. Accessed July 6, 2023. https://extension.umaine.edu/food-health/2021/06/17/plant-based-protein/
STEINMETZ KA, POTTER JD. Vegetables, Fruit, and Cancer Prevention. Journal of the American Dietetic Association. 1996;96(10):1027-1039. doi:https://doi.org/10.1016/s0002-8223(96)00273-8
Harvard School of Public Health. Protein. The Nutrition Source. Published 2022. https://www.hsph.harvard.edu/nutritionsource/what-should-you-eat/protein/
What is a complete protein? www.piedmont.org. https://www.piedmont.org/living-better/what-is-a-complete-protein
Ros E, Hu FB. Consumption of plant seeds and cardiovascular health: epidemiological and clinical trial evidence. Circulation. 2013;128(5):553-565. doi:10.1161/CIRCULATIONAHA.112.001119
Alghamdi SS, Khan MA, El-Harty EH, Ammar MH, Farooq M, Migdadi HM. Comparative phytochemical profiling of different soybean (Glycine max (L.) Merr) genotypes using GC-MS. Saudi J Biol Sci. 2018;25(1):15-21. doi:10.1016/j.sjbs.2017.10.014
Guide to beans and legumes. Mayo Clinic. Published June 21, 2022. Accessed July 6, 2023. https://www.mayoclinic.org/healthy-lifestyle/nutrition-and-healthy-eating/multimedia/beans-and-legumes/sls-20076082?s=3
The Benefits of Beans and Legumes. www.heart.org. Published April 26, 2018. https://www.heart.org/en/healthy-living/healthy-eating/eat-smart/nutrition-basics/the-benefits-of-beans-and-legumes
Cory H, Passarelli S, Szeto J, Tamez M, Mattei J. The Role of Polyphenols in Human Health and Food Systems: A Mini-Review. Front Nutr. 2018;5:87. Published 2018 Sep 21. doi:10.3389/fnut.2018.00087Tor-Roca A, Mar Garcia-Aloy, Mattivi F, Llorach R, Andres-Lacueva C, Mireia Urpi-Sarda. Phytochemicals in Legumes: A Qualitative Reviewed Analysis. Phytochemicals in Legumes: A Qualitative Reviewed Analysis. 2020;68(47):13486-13496. doi:https://doi.org/10.1021/acs.jafc.0c04387
Guide to beans and legumes. Mayo Clinic. Published June 21, 2022. Accessed July 6, 2023. https://www.mayoclinic.org/healthy-lifestyle/nutrition-and-healthy-eating/multimedia/beans-and-legumes/sls-20076082?s=3
The Benefits of Beans and Legumes. www.heart.org. Published April 26, 2018. https://www.heart.org/en/healthy-living/healthy-eating/eat-smart/nutrition-basics/the-benefits-of-beans-and-legumes
Better Health Channel. Soybeans. Vic.gov.au. Published 2012. https://www.betterhealth.vic.gov.au/health/healthyliving/soybeans
Soy Protein Content of Foods. ucsfhealth.org. https://www.ucsfhealth.org/education/soy-protein-content-of-foods
Ma L, Liu G, Ding M, et al. Isoflavone Intake and the Risk of Coronary Heart Disease in US Men and Women. Circulation. 2020;141(14):1127-1137. doi:https://doi.org/10.1161/circulationaha.119.041306
Edamame packs a protein punch. Pennmedicine.org. Published March 14, 2018. Accessed July 6, 2023. https://www.pennmedicine.org/updates/blogs/metabolic-and-bariatric-surgery-blog/2018/march/edamame-packs-a-protein-punch
ISU ReD: Research and eData | Illinois State University Research. ir.library.illinoisstate.edu. Accessed May 25, 2023. https://ir.library.illinoisstate.edu
Irakli M, Tsaliki E, Kalivas A, Kleisiaris F, Sarrou E, Cook CM. Effect οf Genotype and Growing Year on the Nutritional, Phytochemical, and Antioxidant Properties of Industrial Hemp (Cannabis sativa L.) Seeds. Antioxidants (Basel). 2019;8(10):491. Published 2019 Oct 17. doi:10.3390/antiox8100491
​​El-Sohaimy SA, Androsova NV, Toshev AD, El Enshasy HA. Nutritional Quality, Chemical, and Functional Characteristics of Hemp (Cannabis sativa ssp. sativa) Protein Isolate. Plants (Basel). 2022;11(21):2825. Published 2022 Oct 24. doi:10.3390/plants11212825
U.S. Department of Agriculture. FoodData Central. Usda.gov. Published 2019. https://fdc.nal.usda.gov/
Kulczyński B, Kobus-Cisowska J, Taczanowski M, Kmiecik D, Gramza-Michałowska A. The Chemical Composition and Nutritional Value of Chia Seeds-Current State of Knowledge. Nutrients. 2019;11(6):1242. Published 2019 May 31. doi:10.3390/nu11061242
Chia Seeds. The Nutrition Source. Published May 22, 2019. https://www.hsph.harvard.edu/nutritionsource/food-features/chia-seeds/
Cid-Gallegos MS, Sánchez-Chino XM, Álvarez-González I, et al. Modification of In Vitro and In Vivo Antioxidant Activity by Consumption of Cooked Chickpea in a Colon Cancer Model. Nutrients. 2020;12(9):2572. Published 2020 Aug 25. doi:10.3390/nu12092572
Harvard T.H. Chan School of Public Health. Quinoa. The Nutrition Source. Published May 30, 2018. https://www.hsph.harvard.edu/nutritionsource/food-features/quinoa/
Tang Y, Tsao R. Phytochemicals in quinoa and amaranth grains and their antioxidant, anti-inflammatory, and potential health beneficial effects: a review. Mol Nutr Food Res. 2017;61(7):10.1002/mnfr.201600767. doi:10.1002/mnfr.201600767
Pendick D. How much protein do you need every day? – Harvard Health Blog. Harvard Health Blog. Published January 8, 2018. https://www.health.harvard.edu/blog/how-much-protein-do-you-need-every-day-201506188096