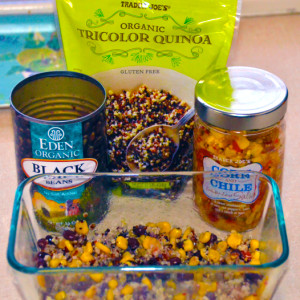 Ingredients
Quinoa 1 1/2 cups
Water 3 cups
1 can Black beans, we prefer Eden brand because it doesn't contain BPA lining
1 glass jar of Trader Joe's Corn and Chile Tomato-Less Salsa.
Directions:
Cook quinoa according to package instructions. Be sure to rinse. I use two colanders stacked together on top of a bowl. Quinoa is very tiny and can fall through the cracks. But rinsing it eliminates bitter residue. I cook mine in our 20 year old rice cooker with 1 1/2 cups of quinoa to 3 cups of water or veggie broth. Once done, add in 1 can of rinsed black beans and 1 jar of Trader's Joe's Corn and Chile Tomato-Less Salsa. Mix together, eat and enjoy.  I packed two little containers for the next 2 days of camp lunch, she's been eating it!