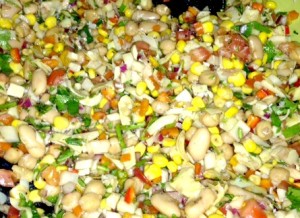 I love cooking in the kitchen, whether it's at my home or at a friend's. While chatting it up recently in a friend's kitchen, I recorded the details of her tasty salad she quickly threw together. Hope you enjoy it as much as we did!
Ingredients:
1 can of white kidney beans
1 can of artichoke hearts
1 can of garbanzo beans
1 can of corn (no sugar added)
1 jar of heart of palm
1 bunch of cilantro
2 cups of chopped sweet mini peppers
1 medium size tomato
¼ red onion
Juice of 1/2 a lemon
¼ cup balsamic vinegar
½ cup olive oil
Salt and pepper to taste
Directions:
Wash all vegetables and thoroughly scrub lemon.
Rinse artichoke hearts, along with the kidney and garbanzo beans, then transfer into a large bowl. Rinsing beans can cut sodium up to 40 percent.
Add can of drained corn.
Chop up heart of palm, mini peppers, tomato, and red onion.
Finely chop cilantro and add all vegetables to the bowl.
Add balsamic vinegar and olive oil to the bowl.
Squeeze lemon half on top and thoroughly mix.
Add salt and pepper to taste.
Nutrition Facts: Makes 10 servings.
Calories: 294; Fat: 13 grams; Saturated Fat: 2 g; Carbohydrates: 39 grams; Protein: 10 grams; Sodium: 47 milligrams; Fiber: 9 grams