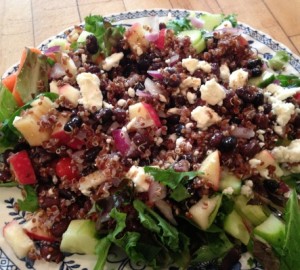 I love quinoa when it's cooked right and mixed into a flavorful meal! Quinoa is the seed of a plant related to the beet, chard and spinach plants. The part of the plant that is edible is its seeds. Quinoa has excellent reserves of protein and unlike other grains, is not missing the amino acid lysine, so the protein is more complete. Plus it has high amounts of vitamin E good for healthy skin and hair.
Ingredients
Mixed salad greens -chopped (make sure to chop it for significantly improved  taste and texture!)
Quinoa -cook in rice cooker, 1 cup of quinoa to two cups of water
Black beans
Feta -crumbled
Fuji or Gala apple -chopped
Cucumber -any kind, chopped
Sugar plum or cherry tomatoes
Red onion -chopped
Balsamic vinaigrette or one of our tasty homemade salad dressings
Directions
Wash and prepare all veggies.  Chop cucumber, red onion and apple into small squares. Cut or chiffon lettuce.
Place veggies at base of plate. Top with chilled black beans and quinoa, and all other ingredients to taste.
Eat and enjoy!