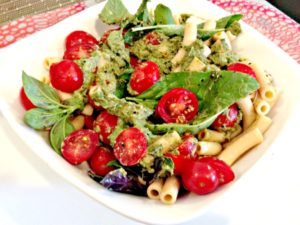 I love pesto! I grow Thai basil from seed and purchase large leaf Italian basil plants from Trader Joes. They both grow abundantly and provide me with basil throughout late spring, summer and early fall. As it gets hotter and they grow taller, I can't use the woody stems and only use the leaves. So adding peas helps boost volume, fiber and cuts down on the cost of meal per serving since pesto ingredients are expensive.
Recently I've been into bean pastas. Banza (eatbanza.com) shipped me some samples and I LOVE it! The texture is delicious –just be sure NOT to over cook it. In just 2 oz it provides 14 grams of protein and 8 grams of fiber. Because I count grams of protein per meal/day I'm always searching for new foods to help meet my nutrition needs for exercise and weight lifting. This pasta is gluten free and so is this tasty pesto.
Ingredients for pesto:
3 cups of packed basil
1/2 cup parmesan
1/2 cup pine nuts
1/3 cup jumbo pitted Greek Kalamata olives (from a glass jar)
1/3 cup olive oil
1 1/2 cup cooked peas (you can add more, experiment with your taste preference)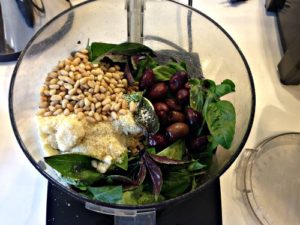 Nutrition Facts for pesto, makes 6 servings:
Total Calories 253, Fat 23g, Carbohydrates 9g, Dietary Fiber 3g, Protein 5g
Directions for pesto and meal:
Wash and trim basil.
Heat frozen peas in microwave until soft.
Measure and place all ingredients in food processor. Blend until smooth consistency.
Wash and half cherry tomatoes.
Cook pasta – stir often and check consistency at 7 and 8 minutes. Do not cook past 9 minutes, serve al dente.
Mix pasta with pesto and top with chopped tomatoes. I also sprinkle in some additional pine nuts, drizzle with balsamic vinegar and add fresh basil leaves.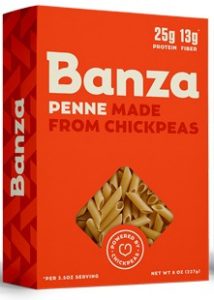 Nutrition Facts per meal with pesto, 2 ounces of Banza Chickpea Penne Pasta and ½ cup chopped tomatoes
Calories 475, Fat 26.5g, Carbohydrate 48g, Dietary Fiber 13g, Protein 21g
Nutrition Facts per meal with pesto, 3.5 ounces of Banza Chickpea Penne Pasta and ½ cup chopped tomatoes
Calories 625, Fat 29g, Carbohydrate 72g, Dietary Fiber 18g, Protein 32g