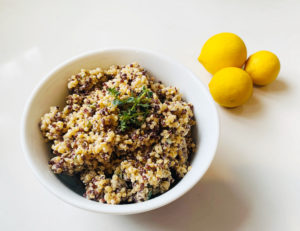 Try this lemon quinoa dish with tahini and herbs for a delicious spin on your usual quinoa.
This dish is quino-yeah! Besides being delicious, each component of this recipe is as nutrient-dense as the next. It all starts with a tiny bead-like ancient grain that gets its vibrant color from phytonutrients—plant-based compounds that help decrease chronic inflammation and combat disease.
Available in red, ivory, and black, each colorful option has its unique set of health benefits. But quinoa is far from a one-trick pony! This hearty grain also provides sustained energy between meals with its fiber and protein content, helping to power even the busiest of days.
How to Cook Red Quinoa
Pro tip on how to cook red quinoa: when cooking this recipe, be sure to give the quinoa a quick rinse to remove any unwanted bitterness caused by surface saponins. Then to avoid it being mushy, cook uncovered at a lower temperature until all water is absorbed. Top it off by fluffing with a fork. For this recipe, I used precooked vacuumed sealed quinoa because of limited time!
Is Quinoa Gluten-Free?
All colors of quinoa are gluten-free. Red, white and yellow quinoa are all gluten-free! Enjoy this as a tasty side dish or a hearty salad topped with your favorite protein. Beans, lentils, feta, fresh mozzarella, grilled fish, or chicken. Then, learn more about the health benefits of this delicious dish below!
Lemon Juice Benefits
Pucker up! This juice offers more than simply a tart taste to meals. Recent research shows that 4 oz of lemon juice a day may help decrease kidney stone formation. (1) Food can be thy medicine!
Thyme Benefits
Be-leaf it or not, herbs are abundant in disease-fighting nutrition. In particular, thyme is one of the most antioxidant-rich herba-licious options, along with basil, cinnamon, and cloves. Specifically, these mighty leaves help rid the body of oxidative damage while providing brain-boosting benefits.
Cumin Benefits
These ground seeds provide a warm and earthy tone to every bite, helping to elevate the flavor profile of any meal. However, cumin is also rich in phytonutrients that help protect against cell damage to slow down age-related cognitive decline. The antioxidants found in spices may also protect against osteoarthritis, cancer, and type 2 diabetes. Talk about a functional food!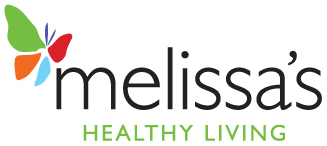 Tahini Lemon Herb Red Quinoa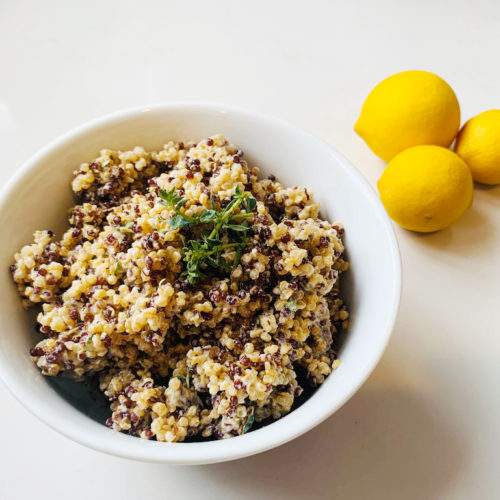 Savory and sweet with myers lemon juice, this herb red quinoa can be center stage or a tasty side dish.
Rate this Recipe!
Ingredients
10

oz

Precooked red quinoa

3

tbsp

Myers lemon juice

2

tsp

Fresh French or lemon thyme leaves, minced

1/2

tsp

maple syrup

1/8

tsp

salt

1/8

tsp

ground cumin

1

tbsp

tahini
Instructions
 In a small bowl, combine lemon juice,chopped thyme leaves, salt, maple syrup, cumin, and tahini. Mix until fully combined.

Add dressing to cooked quinoa. Mixuntil fully incorporated.
Nutrition
Nutrition Facts
Tahini Lemon Herb Red Quinoa
Amount Per Serving (1 g)
Calories 114
Calories from Fat 32
% Daily Value*
Fat 3.5g5%
Cholesterol 0mg0%
Sodium 79mg3%
Potassium 152mg4%
Carbohydrates 18g6%
Protein 4g8%
* Percent Daily Values are based on a 2000 calorie diet.
More Quinoa Recipes
If you liked this lemon quinoa, try these other delicious quinoa recipes:
Enjoy this Article? Share the Love!