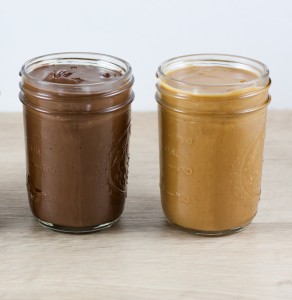 I love nut butter, and peanut butter is a staple in our house. I like it crunchy, smooth, unsalted or salted. Peanut butter or other nut butter often accompany my meals. Here are 10 tasty ways to use peanut butter:
On banana or apple slices and carrot or celery sticks.
Mixed with ricotta cheese and honey served on a rice cake.
Mixed with chocolate nibs and raspberry jam on top of a rice cake or hearty piece of toast.
Spread on a toasted whole-wheat English muffin and topped with strawberry slices.
Added to a banana and/or strawberry smoothies.
Mixed with your favorite low-fat yogurt and some flax seeds and used as a tasty fruit dip.
Added to a chocolate banana shake – mix 1 cup chocolate milk, chocolate almond milk or chocolate soy milk with 1 Tbsp of peanut butter and 1 frozen banana.
Along with mashed bananas added to your pancake batter for a delicious new twist!
Mixed into yogurt with some granola for a great healthy dessert.
Added to oat bars with bananas, honey, and your choice of nuts and seeds or dried fruits.
Mixed with soy sauce and agave for a dip served with pressed cooked tofu or summer or spring rolls.
On a spoon, especially when it's chocolate peanut butter! I just make sure to close the lid after one scoop because it's hard to stop!
Although I do occasionally enjoy snacking, I rarely eat in between meals. But there are days I need to have a snack if mealtime is going to be extensively delayed.
Get more tasty snacks and meal ideas with my new books!