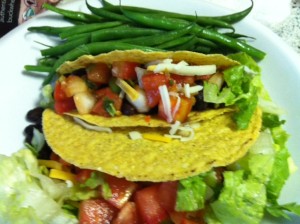 Hungry after a long day of work or excursions. Vegetarian tacos are an easy quick 5-10 minute healthy meal
Ingredients:
Black or kidney beans
Fresh store bought salsa
Shredded reduced fat cheddar or mexican cheese
Romaine lettuce -chop and dry
Tomatoes
Hard shell corn tacos
Open up a can of black or kidney beans, drain fluid from can but don't rinse. Place them in pan and heat medium-low for 3-5 minutes. *If you're watching your sodium levels, rinsing can cut sodium up to 40%.
Wash and chop lettuce and tomatoes.
Place warm beans in taco shell, top with cheese, lettuce, tomato and salsa.
Serve with side veggies like ready washed and microwaveable green beans. Eat and Enjoy!