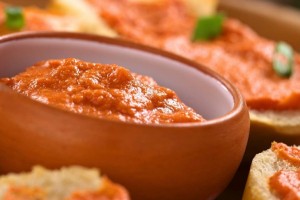 Plain Greek yogurt mixed with 2 Tbsp fresh tarragon, oregano, and thyme creates a versatile herbed yogurt spread.
Vinaigrette: mix two parts olive oil with one part vinegar and season with salt and pepper.
Goat cheese mixed with 2 Tbsp olive oil, 2 Tbsp minced fresh basil, 1 tsp minced garlic, and salt and pepper to taste.
Roasted eggplant spread: roast eggplant, bell pepper, and onion with olive oil, salt and pepper for 45 minutes at 400 degrees F. Once cooled, pulse in a food processor with tomato paste and add salt and pepper to taste.
Homemade tapenade: add ½ cup black and ½ cup green olives, 2 cloves garlic, 2 Tbsp olive oil, and 1 tsp lemon juice to a food processor and pulse for a few seconds.
Hummus with chili flakes and olive oil.
Tahini butter: just spread this creamy and savory sesame butter on warm grilled veggies and/or grilled chicken wraps.
Sun-Dried Tomato Pesto: mix about 20 sun-dried tomato halves, 1 tsp garlic, 2 Tbsp grated Asiago cheese, 2 Tbsp fresh oregano, and 2 Tbsp olive oil in a food processor and pulse until smooth.
Horseradish: mix peeled and chopped horseradish root with salt and water and pulse in a food processor; store in a small jar and allow to ferment for at least three days before using on your sandwiches.
Dijon mustard or any grainy stout mustard: this ingredient can stand alone to add flavor to sandwiches with sliced cheese, poultry or fresh vegetables.
Avocado mixed with pickled jalapeño and lime juice.
Homemade barbecue sauce: 1 cup tomato sauce, 2 Tbsp Dijon mustard, 2 Tbsp soy sauce, 2 Tbsp honey, 2 Tbsp apple cider vinegar, 1 tsp garlic powder, salt and pepper to taste.
Corn relish: corn, bell peppers, onions, and vinegar. Chop all ingredients and mix with vinegar.