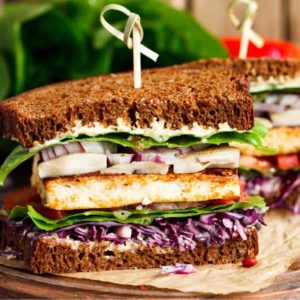 Check out these nutrient boosting options and SPREAD the love for sandwiches!

These healthy sandwich spreads make great dips for french fries too!
Tired of the same old sandwich? As Guy Fiery would say, it's time to take your taste buds to "flavor town." Bring your typical sandwich from a zero to a hero with one of these quick, easy, and delicious healthy sandwich spreads.
Homemade Classic Sandwich Spreads
1. Barbecue Sauce: Combine 1 cup tomato sauce, 2 tablespoons Dijon mustard, 2 tablespoon soy sauce, 2 tablespoons honey, 2 tablespoon apple cider vinegar, 1 teaspoon garlic powder, salt, and pepper to taste.
2. Horseradish: Buy or make your own. This pairs well with beet or pea protein burgers and smoked fish.
3. Vinaigrette: Drizzle your sandwich with a homemade vinaigrette dressing. Mix two parts olive oil with one-part vinegar and season with salt, pepper, and your favorite dried herbs.
4. The Healthy Big Mac Dressing: ½ cup low fat plain Greek yogurt, 2 tablespoons French dressing, 4 teaspoons of sweet pickle relish, 1 tablespoon minced white onion, 1 teaspoon white vinegar, 1 teaspoon honey, 1/8 teaspoon salt.
5. Chipotle: ½ cup low fat plain Greek yogurt, 1 teaspoon lime juice, ½ teaspoon chili powder, 1 teaspoon. paprika, ¼ teaspoon chipotle powder, salt to taste.
6. Dijon Mustard: Dijon or any grainy stout mustard can stand alone to add flavor to sandwiches with sliced cheese, poultry, or fresh vegetables.
7. Honey Mustard: Mix ¼ cup light sour cream, 1 tablespoon mayonnaise, 1 teaspoon honey, ½ teaspoon of Dijon mustard.
International Flair Sandwich Spreads
8. Chipotle Honey Vinaigrette: 6 tablespoons red wine vinegar, 3 tablespoons honey, 3/4 cup olive or avocado oil, a dash of dried oregano, salt, pepper, 2 chipotle peppers, 2 small garlic cloves.
9. Roasted eggplant spread: Roast eggplant, bell pepper, and onion with olive oil, salt, and pepper for 45 minutes at 400 degrees F. Once cooled, pulse in a food processor with tomato paste. Add salt, and pepper to taste.
10. Olive Tapenade: In a food processor, add ½ cup black and ½ cup green olives, 2 cloves garlic, 2 tablespoons olive oil, and 1 teaspoon lemon juice. Pulse until desired consistency.
11. Hummus: Add some hummus with chili flakes and olive oil. Make your own or save time with a store-bought one.
12. Tahini: Spread this creamy and savory sesame spread on warm grilled veggies or grilled chicken or veggie wraps.
13. Sun-Dried Tomato Pesto: In a food processor, add 20 sun-dried tomato halves, 1 teaspoon garlic, 2 tablespoons grated Asiago cheese, 2 tablespoons fresh oregano, and 2 tablespoons olive oil. Pulse until smooth.
14. Mango Salsa: Great on top of grilled fish sandwiches. Mix chopped mango, chopped red onion, and lime juice. Here's another mango salsa recipe to try too!
15. Chili Oil: Olive oil, crushed red chili pepper flakes, and garlic powder, perfect to drizzle over veggies in your sandwich.
Forgotten Hero Healthy Sandwich Spreads
16. Corn Relish: Make your own corn relish by chopping corn, bell peppers, onions, and vinegar, then mixing with vinegar.
17. Yogurt Spread: For a versatile herbed yogurt spread, mix plain Greek yogurt with 2 tablespoons fresh tarragon, oregano, and thyme.
18. Herbed Goat Cheese: For a fresh and creamy spread, mix goat cheese with 2 tablespoons of olive oil, 2 tablespoons minced fresh basil, 1 teaspoon minced garlic, and salt and pepper to taste.
19. Avocado Remix: Mix mashed avocado with pickled jalapeño and lime juice for a spicy, tangy, and creamy sandwich spread.
20. The New-Yorker: Low fat cream cheese with "everything" seasoning.
Gone are the days where you dread your sandwich lunches. Turn any simple sandwich into a drool-worthy sensation with a healthful spread. Not in the mood for a sandwich? That's okay! These delicious spreads can also be used as a unique dip with veggies or whole-grain crackers. You can also try our 10 Healthy Pizza Toppings or our Unique and Tasty Pasta Toppings. Find your favorite and SPREAD the word!