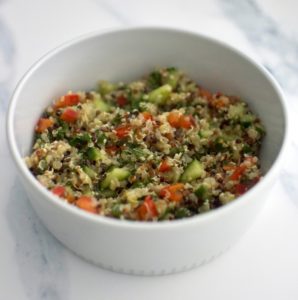 This Mediterranean Sprouted Quinoa Salad recipe contains colorful ingredients, spices, and flavors to keep your tastebuds satisfied from start to finish, while also maximizing the health benefits.
Quinoa may be an ancient grain, its health benefits are far from old news. This power-house ingredient is abundant in feel-full fiber, protein, and phytonutrients, helping you slay every day! Although this tasty recipe is great for all to enjoy, there are a few populations who may not want to miss out on its must-have benefits. So, does your life need a quick quinoa boost? Find out by referring to the groups below!
Key reasons quinoa is so great:
it's a gluten-free grain
it can provide carbs and protein for muscle repair
it takes longer to digest than some other grains
it contains phytonutrients
it's a great higher protein grain for vegans
Keep reading for more about each of these benefits, and why you should work this Mediterranean quinoa salad into your normal routine.
Quinoa: A Gluten-Free Grain
Have you said goodbye to grains because of gluten sensitivity? A survey showed that approximately 30% of the United States population show interest in gluten-free foods. (1) But quinoa is naturally gluten-free, making it a must-try for those actively avoiding this common allergen.
So, whether you have celiac disease, struggle with gluten sensitivity or IBS, or simply try to avoid gluten, this grain is the perfect way to maintain a balanced diet.
Quinoa Benefits for Athletes
To all exercise enthusiasts and athletes, a public service announcement: eat your quinoa! Whether it's the night before a big game or you just finished a grueling practice, quinoa can help replenish glycogen stores. Plus, consuming carbohydrates after working out helps stimulate insulin secretion necessary for muscle protein synthesis initiation. (2) Get those gains with grains!
Bonus, one cup of cooked quinoa also contains 8 grams of protein—ultimately contributing to muscle repair after your sweat sesh. But, if you have a sensitive stomach, avoid consuming quinoa or other high-fiber ingredients in the hours leading up to a hard training day. If not, you may be running to the bathroom instead of laps.
Ancient Grains vs. Other Grains
Do you suffer from rollercoaster-like energy levels? Ain't nobody got time for that! The fact is that sometimes, your grain selection simply can't keep up with your busy lifestyle.
Rather than fueling with white rice or semolina pasta, couscous, or orzo, experiment with a whole-grain alternative to keep you feeling your best. This complex carbohydrate requires additional digestion time, ultimately leading to sustained energy levels between meals. Say goodbye to your afternoon slump by embracing this ancient grain. 
Phytonutrients and Longevity
Who doesn't want to live longer and stronger? Grains are not the enemy! Yup, I said it! This mighty grain is abundant in phytonutrients—plant compounds with anti-inflammatory properties that help reduce oxidative stress.
Diets rich in phytonutrients also help decrease the risk of:
metabolic syndrome
hyperlipidemia
hypertension
type 2 diabetes
and certain types of cancer.
These mighty nutrients also help improve immune function, blood flow, and arterial flexibility—all contributing towards better health. (3) Talk about a grain that keeps on giving!
Quinoa for Vegans
Some of my vegan clients get a little radical with daily rice intake. Rice has higher levels of inorganic arsenic than other foods because it takes up arsenic from soil and water more readily than other grains.
Whole grain rice is a healthy food choice, but too much can lead to excess arsenic intake. Enjoy 4 ½ servings (3/4 cup cooked rice/serving) a week of basmati rice from India, Pakistan, or California.
Sushi rice is also lower in arsenic but misses out on the benefits of the bran, germ, and endosperm — leaving just the starch and no nutrients. For other rice and those grown elsewhere, limit to 2 servings per week. (3)
If you can't identify with the above populations, don't fret! This recipe's great taste is reason enough to give it a try. Then, take the guesswork out of mealtime by making an extra-large batch to enjoy throughout the week. Since it's eaten cold, it's the perfect bring-along lunch for those living an on-the-go lifestyle. To make this tasty recipe, refer to the directions below.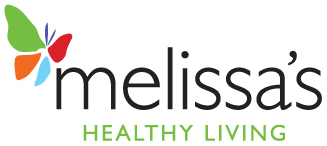 Mediterranean Sprouted Quinoa Salad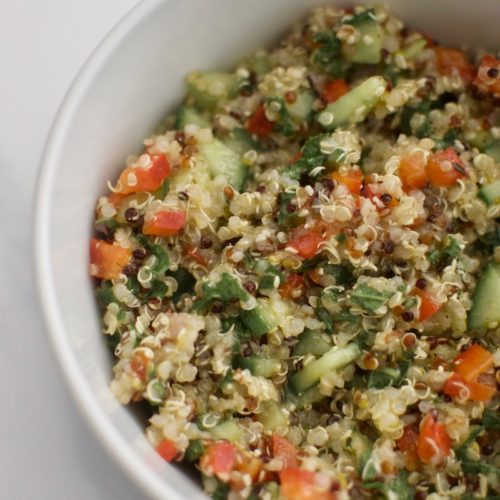 This sprouted quinoa salad with crunchy cucumbers and hemp hearts, colorful kale, sweet tomatoes, and red bell peppers will have you wanting this recipe on repeat. Although this is made with a tart and spicy dressing, you can also enjoy it sweet and savory.
Rate this Recipe!
Ingredients
2

cups

sprouted quinoa

1/2

whole

red bell pepper

1/2

small

English cucumber

2

leaves

kale

5

whole

heirloom cherry tomatoes

3

tbsp

hemp hearts
Dressing
1/4

cup

olive oil

1/2

cup

lemon juice

1

tbsp

zaatar

salt and pepper to taste
Instructions
In a small pot, bring 3 cups of water to boil.

On low heat, add quinoa. Cover potand allow to cook for 15 minutes.

Remove from heat. Keep covered for additional 5 minutes. Flush with a fork.

In a large bowl, dice pepper,cucumber, tomatoes, and kale. Mix until thoroughly combined.

In a small bowl, add olive oil, lemon juice, zaatar, salt, and pepper. Mix until fully incorporated.

Add cooled quinoa and hemp hearts tothe vegetable mixture. Mix until fully combined.

Add dressing to quinoa mixture. Mix until fully incorporated.
Nutrition
Nutrition Facts
Mediterranean Sprouted Quinoa Salad
Amount Per Serving (1 cup)
Calories 229
Calories from Fat 90
% Daily Value*
Fat 10g15%
Sodium 57mg2%
Potassium 275mg8%
Carbohydrates 29.5g10%
Protein 6g12%
* Percent Daily Values are based on a 2000 calorie diet.
Other Healthy Salad Options
Looking for other healthy salad inspiration like this Mediterranean quinoa salad? Try these recipes:
References
Jones AL. The Gluten-Free Diet: Fad or Necessity?. Diabetes Spectr. 2017;30(2):118-123. doi:10.2337/ds16-0022
Fujita S, Rasmussen BB, Cadenas JG, Grady JJ, Volpi E. Effect of insulin on human skeletal muscle protein synthesis is modulated by insulin-induced changes in muscle blood flow and amino acid availability. Am J Physiol Endocrinol Metab. 2006;291(4):E745-E754. doi:10.1152/ajpendo.00271.2005
Enjoy this Article? Share the Love!