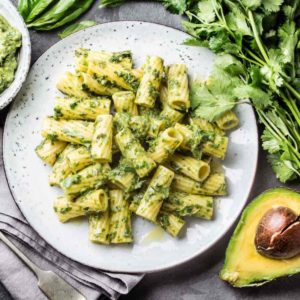 Pasta dishes can be easy and delicious options for any occasion – from busy weeknights to special date nights. Liven up your dishes with these different pasta toppings.
Did you know that pasta makes an excellent meal prep option to enjoy later in the week? Leftover pasta will hold better if you lightly spray it with olive oil before storing in an airtight container. To reheat, add a little water, then cover with a silicone lid and briefly reheat before mixing in any new toppings. The beauty of pasta is its versatility and the truly endless flavor possibilities. Sometimes all you need are just a few pasta ideas.
Choosing a Pasta Base for Your Pasta Toppings
When choosing pasta, look for those made with whole grains or beans, which contain complex carbohydrates, vitamins, minerals, and fiber. Traditional refined pasta (white, semolina) have most of the healthy stuff removed, leaving just the starch. Choosing bean pasta is a budget-friendly way to meet protein needs. Or you can add beans to your traditional whole grain pasta.
Next time you're in the mood for a bowl of pasta, rather than reaching for that jar of marinara sauce in the back of the cupboard, try one of these fresh pasta topping ideas. These delicious and healthy ways will bring new flavors to your bowl!
Colorful Pesto Pasta Flavor Boost
Add a green hue to your dish with basil pesto, sundried tomatoes, artichoke hearts, and olives. In addition to adding a major flavor boost, basil may also have cancer-preventing and tumor-suppressing properties. (1)
Herb Citrusy Baked Salmon
Bake salmon with fresh lemon and basil, minced garlic, and olive oil, and top with parmesan cheese. Salmon is full of omega-3 fatty acids, which are vital for heart health, can help minimize gene errors, and promote brain health.
Mediterranean Tuna
Canned tuna, diced tomato, red onion, and olives make a perfectly delicious Mediterranean mix. Like salmon, tuna is also a good source of omega-3 fatty acids. Fish is a lean protein option, and the low saturated fat content of fish can help promote heart health! Eating a mostly plant-based diet is good for your body, but adding in fish rich in omega-3 fatty acids 2-3 times a week may help lower the risk of mood disorders and depression. (2)
Creamy Basil

Avocado

Sauce
Mix together pureed avocado, basil, fresh lemon, and garlic, and top with fresh cherry tomatoes. Including healthy fat from avocados instead of meat can have health-promoting benefits for your heart and may help decrease your LDL cholesterol! Plus, doesn't avocado make everything taste better?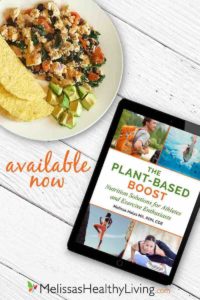 Tender and Lean Chicken and Greens
The different types of pasta toppings continue! Grill chicken breast and sauté with kale and garlic in olive oil, then garnish with fresh lemon. Kale is a nutrient powerhouse, loaded with important nutrients including vitamins A and C, calcium, and fiber!
Oh So Beanie
Try a meatless Monday dish with cannellini beans, olive oil, spinach, garlic, and shaved parmesan or nutritional yeast. Adding in beans helps boost magnesium, which most American's don't get enough of! Magnesium is important in helping to prevent insulin resistance and is a cofactor involved in over 300 enzyme systems in your body. I include beans almost every day in my diet to help meet magnesium requirements. Replacing meat with beans also helps reduce harmful greenhouse gasses and boosts antioxidants!
A Plant-Based Protein Boost
Boost your pasta dish with stir-fried tofu, bell pepper, and mushroom, and top with peanut sauce and green onions. This pairs well with soba noodles. In addition to being an excellent plant protein option, tofu contains leucine, which is one of the branched-chain amino acids that may help with muscle recovery after exercise. Learn more about plant-based protein in my book, The Plant-Based Boost: Nutrition Solutions for Athletes and Exercise Enthusiasts.
Spicy and Crispy Broccoli
Stir-fry broccoli (making sure to keep it crisp) and sauté with garlic and olive oil. Then top with red pepper flakes and fresh lemon. Research has found that broccoli and other cruciferous vegetables may have powerful cancer-preventing properties, so boost up on this crispy green veggie for your long-term health! (3)
Cruciferous and Creamy Cauliflower Sauce
Make your own creamy cauliflower sauce by blending steamed cauliflower, vegetable broth, low-fat or fat-free milk or a milk alternative, and garlic. Pair with baby spinach, cherry tomatoes, and slivered red pepper. In addition to being a fractal geometry wonder, cauliflower, like broccoli, is a member of the cruciferous vegetable family and may also help reduce your risk of developing cancer. (4)
Earthy and Rich Chickpea Pasta
Chickpeas mixed with sautéed garlic and onion, fresh herbs, and Parmesan cheese or nutritional yeast makes for a rich and flavorful dish. Consumption of garlic and onion, which are both part of the allium family (a phytonutrient family), may reduce your risk of developing certain types of cancer. Fresh garlic versus stored (pre-chopped in water or oil) has more of the active plant compound allicin. Allicin has antibacterial and cancer-protective properties. (5)
Sautéed Eggplant with Feta
Sauté eggplant, tomatoes, basil, onion, and garlic, then top your pasta bowl with feta cheese. The purple skin of eggplants contains phytochemicals called anthocyanins, known for their anti-inflammatory properties, and may help protect your heart by preventing the buildup of plaque in your blood vessels. (6) (7)
Savory and Spicy Tomato Sauce
Make a savory and spicy mix with tomato sauce, red pepper flakes, light mozzarella cheese, garlic, and onion, and top with a fried egg and fresh parsley. Tomato is rich in a phytochemical called lycopene. This powerful antioxidant may help prevent certain chronic diseases, including heart disease and cancer. (8)
Flavorful Indian Lentils
Puree red lentils, ginger, curry powder, and tomatoes, and top with baby spinach. Ginger may play a role in helping to reduce inflammation and improving muscle recovery after exercise. (9)
Rich, Roasted and Nutty Cashew Cheese Sauce
Make cashew cheese sauce by blending soaked cashews with roasted garlic, nutritional yeast, and your choice of low-fat or fat-free milk or milk alternative. Serve with grilled mushrooms and fresh basil. This pasta topping idea is one of many that is vegan-friendly. If you're vegan, look for a brand of nutritional yeast that is fortified with vitamin B12, a nutrient that plays key roles in the development of red blood cells, brain health, and synthesis of DNA. (10)
Vegged Out Zoodles
For a veggie boost, add zucchini noodles to whole-grain or bean pasta and top with garlic, red pepper flakes, tomatoes, olive oil, parmesan cheese, and fresh herbs. Adding zucchini noodles to your pasta dish is an easy way to boost your daily veggie intake.
Sweet, Tender and Spicy Pasta with a Peanut Crunch
For a Burmese inspired pasta dish, use rice noodles and mix with sautéed yellow onions, garlic, ginger, tomatoes, and soy sauce, spiced with paprika, cayenne pepper, turmeric, and dried chili flakes. Garnish with green onions and crushed peanuts. Cayenne pepper, along with other hot peppers, may help promote heart health by lowering cholesterol and improving blood flow. (11)
Crisp and Umami Soba
For a different flavor profile, stir-fry snow peas, red pepper, tofu, and onion. Add sesame oil, soy sauce, and rice vinegar, and garnish with sesame seeds. Pair with buckwheat soba noodles. Buckwheat noodles are a tasty, nutrient-dense whole grain noodle option that contains fiber, protein, and a variety of trace vitamins and minerals.
To any of the pasta topping recipes above, add salt and pepper to taste.
References
Lucas M., Asselin G., Mérette C., Poulin M.J., Dodin S. Ethyl-eicosapentaenoic acid for the treatment of psychological distress and depressive symptoms in middle-aged women: a double-blind, placebo-controlled, randomized clinical trial. Am J Clin Nutr. 2009;89:641–651.
Fujisawa et al. Biological and Chemical Stability of Garlic-Derived Allicin. Journal of Agricultural and Food Chemistry, 2008; 56 (11): 4229 DOI: 

10.1021/jf8000907

Aedín Cassidy et al. High Anthocyanin Intake Is Associated With a Reduced Risk of Myocardial Infarction in Young and Middle-Aged Women. Circulation: Journal of the American Heart Association., 2013 DOI:
Aedín Cassidy et al. High Anthocyanin Intake Is Associated With a Reduced Risk of Myocardial Infarction in Young and Middle-Aged Women. Circulation: Journal of the American Heart Association., 2013 DOI:

https://lpi.oregonstate.edu/mic/health-disease/inflammation

, and

 

https://www.jpain.org/article/S1526-5900(09)00915-8/fulltext