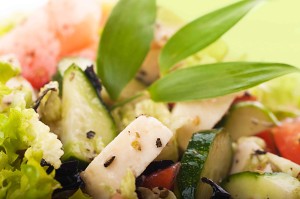 When it comes to salad think outside the lettuce, tomato and cucumber box. Salad is a versatile dish that can be anything from appetizer, entrée to dessert! The secret is mixing colors, textures, and flavors to create a healthy dish that is anything but boring. Toss with a basic vinaigrette and you are on your way to endless delicious ways to change up your everyday salad routine!
Appetizer/Side Dish Salads:
Fresh baby spinach topped with toasted almond slivers, dried cranberries and poppy seeds.
Arugula with sliced strawberries, goat cheese and toasted walnuts.
Green leaf lettuce, steamed broccoli, roasted baby beets, feta and pumpkin seeds.
Mesclun lettuce mix topped with sliced pears, brie and toasted pecans.
Baby spinach with shredded red cabbage, chopped red bell pepper, chickpeas, clementine wedges, and sunflower seeds.
Baby spinach with chopped hard-boiled eggs, sautéed Portobello mushrooms, and gorgonzola.
Romaine lettuce served with marinated artichoke hearts, black olives, feta, and chopped red pepper.
Fresh mozzarella and sliced tomatoes, topped with ribbons of fresh basil, fresh ground pepper, and drizzled with olive oil and vinegar.