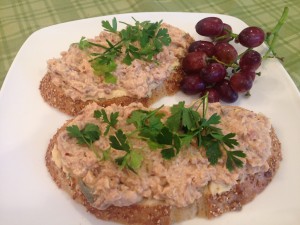 Are you getting enough omega-3's for a healthy heart and brain? Probably not, most people need more omega -3 fatty acids in their diet. The American Heart Association recommends eating two servings of fatty fish per week. One serving is 3 1/2 ounces cooked or about ¾ cup of flaked fish. Here's an easy lunch or dinner packed with omega-3's and beans!  Yes, that's right Paleo lovers -beans in the form of hummus!  Beans are a super food that have numerous health benefits and are a healthy part of your diet! This recipe was a hit with both kids and guys.
Ingredients:
Fresh Parsley
Multi-grain sour dough
Canned Wild Pink Alaskan Salmon (boneless, no salt added)
Reduced fat mayonnaise
Hummus
Directions:
Wash and dry fresh parsley
Toast multi-grain bread or bread of your choice
Drain salmon and mix with mayonnaise (amount per your taste preference)
Spread hummus on toast. Top open face sandwich with salmon mayo mixture.
Top with fresh parsley. Eat and enjoy!