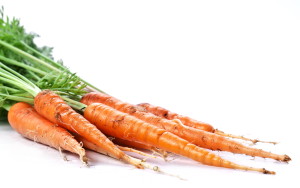 2 large sweet potatoes, peeled and chopped
4 medium carrots, peeled and chopped
1 onion, peeled and chopped
2 cloves of garlic, peeled and chopped
1 inch of fresh ginger, peeled and chopped
6 cups of low sodium chicken stock or vegetable stock
2 tablespoons canola or olive oil
½ tablespoon butter
Salt and pepper to taste
Sauté garlic, ginger, and onion in oil until soft then add in chopped vegetables.  Cook the vegetables for two minutes, stirring often, and then add in low sodium chicken stock.  Bring to boil then reduce to a simmer and cook until the vegetables are soft.  Transfer to a blender and puree until smooth.  Stir in butter then salt and pepper to taste.
Enjoy this delicious dinner with the whole family to stay warm! It's rich in vitamins A and C, so this sweet potato and carrot soup will help keep the flu away for your family. Don't forget to get the kids in the kitchen helping to prepare the soup– they can scrub the veggies, measure the ingredients, peel the carrots or put out the soup bowls and spoons!
Check out more of SuperKids Nutrition's Soups