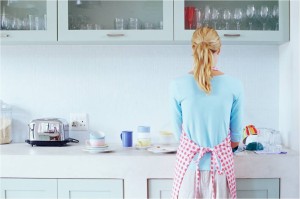 Everyone wants a clean house to entertain family and friends for parties, get-togethers or holidays, but few people enjoy the process of getting there.  Thankfully, there are lots of things you can do to make cleaning enjoyable for you and your children.  Inject fun into each task and before you know it, the job will be done and you will have found a way to sneak some double-duty exercise into your day and burn some calories in preparation for the holiday dinners!  Your children may even end up being great and enthusiastic housekeepers of their own homes now and in the future! (We can at least hope….)
Here are some suggestions for creating a holiday-ready house for your healthy family!
Music makes it go faster! Turn on some upbeat music and dance across the floor with your wood-handled "partner" as you sweep and mop!
Turn small tasks like picking up clothes, toys and books into a game of "Musical Chores"!  Make a playlist of songs about five minutes in length, assign each child an age- and stage-appropriate job, and hit "Play"! When each song is over, it's time to move onto the next assignment!
Make small tasks out of larger ones to better facilitate the fun! For example, laundry may be broken into collecting, washing, drying, folding just shirts, folding just pants, putting up, etc., and each can be a mini-contest in and of itself!
Set a time limit and have a race! Whoever finishes a chore first or before the time runs out wins and gets first choice on the next task!
If the housecleaning job is huge before house guests arrive, take a couple 5-minute snack breaks with air-popped popcorn, baby carrots, apple slices, broccoli trees or peanut butter with whole grain crackers to recharge!
When you finish cleaning a room, spray the center with a diluted mixture of essential oils of orange, cinnamon and vanilla for a fresh, natural, uplifting scent to mark your accomplishment and get you all in a holiday mood!
When the house is all clean, celebrate with a dance party and some spiced apple cider with cinnamon and nutmeg!
Feel those muscles burn from all that scrubbing!  Now it's time to smell the clean!  Taste the season and have a happy holiday celebration!
For young children, check out Super Baby Abigail's Lunch Time Adventure to show your kids that cleaning up the kitchen can be fun! Learn how and why to keep moving with your kids!