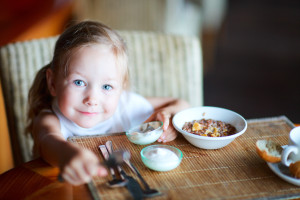 Cook one-half cup of oatmeal with cinnamon—this spice will warm you up on the coldest day!
Try it topped with toasted almond slices, a drizzle of maple syrup, a small handful of raisins or currants, or chopped baked apple.
Scrambled eggs with salsa for a bit of heat in the winter chill.
Try it with sautéed spinach, bell pepper, tomato or onion for additional nutrition, or mix it up with a rainbow of veggies for the ultimate nutrient boost.
Warm whole grain toast with peanut butter is a protein boost to get you ready for your day!
Try it topped with sliced banana, a drizzle of honey, chopped walnuts or all three.
100% whole grain blueberry pancakes are filled with fiber and antioxidants that will keep you feeling satisfied and healthy! To save yourself time, you can make them in batches on the weekend, separating each pancake with wax paper and placing them into a food storage bag for the freezer. Heat the pancakes on the stove, or defrost the night before and enjoy!
Hot cereal for breakfast: add kasha (buckwheat groats) to your pantry and give the following recipe a try: cooked kasha, low-fat milk, cinnamon, and a dash of brown sugar or honey (follow package instructions for exact liquid to kasha ratio).
Buckwheat crepes or waffles, topped with your favorite berries, for a super-power anti-oxidant morning.
Warm Quinoa, mixed with slivered almonds and raisins.