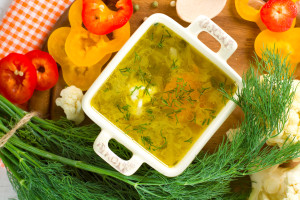 Kale and Sausage Soup
Ingredients:
2 T olive oil
2 cloves garlic, minced
1 medium onion, diced
3 spicy Andouille chicken sausages (or any chicken sausage you like –choose those with the lowest fat content)
1 bunch kale
32 oz low sodium chicken broth
1 can white beans (optional)
Remove the stems from the kale, chop, and set aside.  Sauté the onions and garlic in olive oil until they begin to soften.  In the meantime slice the sausage into thin rounds.  Add the sausage and cook 5 minutes or until everything begins to brown a little.  Add the chicken broth and kale and cook until kale is tender, about 10 minutes.  Add the beans just a few minutes before the soup is done just so they heat through.  Season with salt and pepper to taste.
Mom's Easy Zucchini Soup
Ingredients:
6 medium zucchini shredded (more or less you can always add more or less broth)
2 medium onions chopped
Tbsp of olive oil
2 garlic cloves minced (more if you love garlic)
1-2 teaspoon of dried basil (or fresh if you have it)
2 teaspoons of dried parsley (if you have fresh, add a bunch)
1 28 oz can of crushed tomatoes or diced fire roasted tomatoes for more zest
16 ounces of vegetable broth
Salt, pepper to taste
If available, 1 tsp of Trader Joe's 21 salute
Serve with a dollop of low-fat sour cream or a couple teaspoons or Parmesan.  Optional: serve over cannellini bean or any white bean in a bowl
Put chopped onions and minced garlic in pot with olive oil. Cook for about 5 minutes.  Add everything in a big pot and cook over medium heat for about 25 minutes.  If the vegetables look cooked sooner -it's done. Eat and enjoy.
*when possible choose organic zucchini as this vegetable if often genetically modified