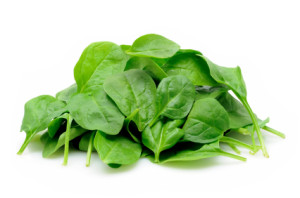 Age-Related Macular Degeneration (ARMD) is the leading cause of blindness and most Americans don't get enough greens.  I'm always trying to get green leafy veggies in my client's diet any way I can!  Eating these foods most days of the week is important for the prevention of ARMD but also for heart and skin health.
Leafy greens that are readily available, prewashed and convenient – like spinach can make including them easier, especially for resistance eaters. This soup was an immediate hit!
First:
I put about ¼ cup of Earth's Balance Non GMO, non-hydrogenated buttery spread in a pan on low heat
Added 4 chopped celery stalks (it always adds a nice flavor)
A large bunch of scallions chopped
I cooked these for about 5 minutes until soft
Second:
Then I added whole bag of Trader Joe's organic baby spinach
3 cups of vegetable broth
I brought these to a boil, then covered and simmered for about 15 minutes
Third:
I used an emersion blender to blend the cooked ingredients right in the pot. If you don't have one, transfer the soup to a food processor. I asked for an emersion blender for Christmas. It eliminates one more thing to wash!
Everyone ate it and no one added salt. It was a very thin soup. You could add corn starch to thicken it if you like or include potatoes as a base. No one is a big fan of spinach at our house, but they all enjoyed this soup… and I'm happy to protect my family's vision!