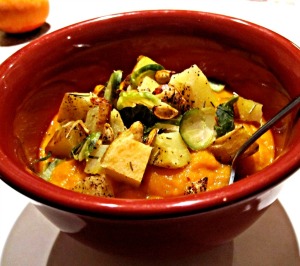 I love finding ways to combine all the wonderful vegetables that abound this time of year! For me, squash, root vegetables and Brussels sprouts are often the key ingredients to some of my favorite meals. This recipe incorporates cannellini beans for extra protein, fiber, and a creamy effect. Each bowl of this wholesome soup provides about eight grams of protein and fiber while keeping calories in check. Try this harvest soup as nourishing fuel for your fun holiday activities! Also, save and roast the seeds of your butternut squash. They make a fantastic crispy topping!
Ingredients:
1 cup carrots, chopped into chunks
1 cup butternut squash, chopped in to chunks
Seeds from butternut squash, rinsed
1 yellow potato, scrubbed and chopped into chunks
1 cup brussels sprouts, sliced in half
2 tbsp olive oil
Spices of your choosing (I love rosemary, thyme and cayenne)
½ tsp sea salt
4 cups vegetable stock (or more for a thinner soup)
1 – 15 oz can of cannellini or white beans, drained and rinsed
Note: Use the seeds! Place the seeds from the butternut squash on the pan. They taste delicious roasted!
Directions:
Preheat the oven to 425 degrees F.
In a large bowl, toss the chunks of carrots, squash, potato and Brussels sprout halves with the olive oil.
Line two baking sheets with parchment (optional) and spread the vegetables evenly over the two sheets. Avoid letting the pieces touch so that they cook evenly.
Next, sprinkle with herbs of your choice to taste. Use roughly 1 tablespoon of herbs for the 4 cups of vegetables. Lightly sprinkle with sea salt.
Bake for 25-35 minutes, or until carrots have softened and vegetables have just began to brown at the tips.
In a large pot, bring the vegetable stock to simmer.
Add the roasted carrots, butternut squash and cannellini beans and use an immersion blender to blend until desired soup consistency is reached. Alternately, use a standing blender and puree soup in batches.
After the soup base is finished, chop roasted potato chunks into dice and slice roasted Brussels sprouts into thin slices.
Top blended soup with potato dice, Brussels sprout slices and crispy butternut squash seeds.
Enjoy!
Nutrition facts. Makes 4 servings
Calories: 226 kcal; Fat: 7 g; Saturated Fat: 1 g; Sodium: 406 mg; Carbohydrates: 68 g; Fiber: 8 g; Protein: 8.5 g
Check out these tasty soups: easy lentil soup, yummy spinach soup, root vegetable soup, tasty low sodium cauliflower soup, kale and sausage soup and my mom's zucchini tomato soup (a family favorite!).