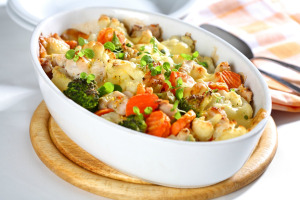 This is a super easy meal that makes my man happy! I freeze 2 small containers of this, so when he's hungry all he needs to do is defrost, warm up and enjoy!
Ingredients:
2 ½ cups cooked brown rice
1, 14 oz can of low sodium vegetable broth
1, 10.75 oz can of condensed cream of mushroom soup, low sodium
1, 16oz bag frozen vegetables (carrots, sugar snap peas and water chestnuts or cauliflower, broccoli and carrots)
2 cups chicken breast, chopped into smaller than bite size pieces. (make extra and add to salads or shred for tacos later in the week)
3 Tbsp of onion, minced (you can use more if you like –my husband is not an onion man)
Directions:
I cook the rice and chicken breast the night before, this makes it feel like a super easy dinner!
Preheat oven to 375 Degrees.
Mix all ingredients in large bowl.
Bake for 30 minutes at 375.
Nutrition for 1 portion:
(Makes 3 portions)
Calories: 480 Fat: 6grams Saturated Fat: 2grams Carbohydrates: 64grams Protein: 39grams  Sodium: 835milligrams  Fiber: 7grams