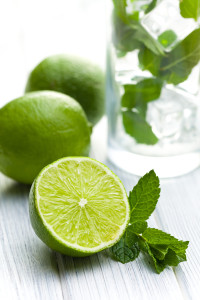 Learn easy steps to take to build healthy habits!
Healthy living gets easier over time! Each week this month, choose two new tips to focus on to help build healthier new habits.
Go heavy on the spice jar –spice it up. Keep out an herb blend and shake it all over!

Start an herb garden for more fresh greens.  Add cilantro to your salads. Check out these top 8 appetizer salads for tasty ideas. 
Drink tea or herbal tea with a piece of sweet citrus or baked apple with cinnamon if you're craving sweets. Including fruit at breakfast may help you avoid sweet cravings later in the day.
Choose a fruit and vegetables in a variety of colors. Aim for 4-5 colors a day!

Try low-fat organic Kefir milk for their probiotics beneficial for your gut served over fresh fruit or in a smoothie –delicious!

Choose foods that are

high in fiber

 and whole grains. Try counting your fiber for a day. See if you're meeting your needs.

>50 years old
Adult Males: 30 grams of fiber per day
Adult Females: 20 grams of fiber
<50 Years old
Adult Males: 38 grams of fiber per day
Adult Females: 25 grams of fiber
Limit saturated fat intake –compare foods labels and choose the brand or product with the lower number. 

Cut out trans-fat foods; be sure to read the ingredient list.

Limit- sugar, salt, and alcohol intake. Spend a day evaluating how your grams of total added sugar or milligrams of sodium add up. Are you exceeding recommendations most days?

Keep sugar to no more than 6 teaspoons of added sugar a day for adults.
Make sure your sodium doesn't exceed more than 2300 mg per day.

Eat at least three meals a day or five small meals & try not to go more than 5 hours between meals; it can lead to overeating and excess weight.
Meet with a Registered Dietitian to find to maximize your nutrient intake and help you achieve a healthy lifestyle for your best health. 

Make sure to avoid an unbalanced breakfast, and have it consist of whole grains or fruit, lean protein like an egg or plain low-fat yogurt and healthy fats, like walnuts.

Be careful not to

underestimate portions

.

Don't forget to get moving every chance you get!