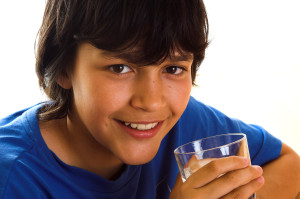 A study published in the April 2009 Archives of Pediatric and Adolescence Medicine reveals that replacing sugar-sweetened beverages with water will result in a decrease in overall caloric intake with no negative benefit on health. An average of 235 calories can be removed from the diet, thereby closing the gap between calories eaten and calories burned.
"The evidence is now clear that replacing these 'liquid calories' with calorie-free beverage alternatives both at home and in schools represents a key strategy to eliminate excess calories and prevent childhood obesity" –Y. Claire Wang, MD, ScD, study's lead author
Ways to decrease the amount of sweetened beverages your child (and you!) consume:
1. Mix half fruit juice with half water or seltzer water for a lighter fruity treat.
2. Invest in a water filter and keep cool water stored in the fridge for thirsty eyes to see.
3. Slowly decrease the amount of sweetened beverages that you bring into your home. Gradual change may go over better than stopping cold turkey.
4. Encourage water intake by making it easy and fun! Send your children to school with BPA-free water bottles to drink during lunch and during the school day. (There will be a label on the water bottle noting that it is BPA-free)
5. Try drink boxes that are diluted with water.  Water in a juicebox is one of the most fun ways I have found to encourage water intake among children.
For more on sweetened beverages, read Health Problems Associated with Sweetened Beverages