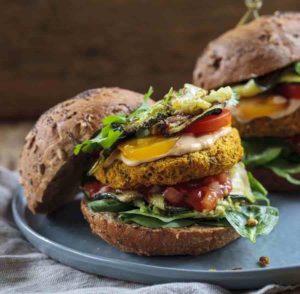 Here are the benefits of the sought-after plant-based burger, along with a helpful comparison of the nutrients many popular brands provide.
As plant-based burgers have become an everyday choice for many burger lovers, we have to ask, are they really healthier? Chik'n. Stea'k. Saus'age. No, these are not typos. These are examples of vegan meat alternatives that have been growing in popularity around the world. And now comes the most trendy of all, the plant-based burger! But, with their introduction into multiple fast-food chains, are these plant-based burgers a healthier alternative than the real deal? Here are some helpful tips on how to choose a burger based on your taste, food, and nutrient preferences.
What is a plant-based burger?
Plant-based burgers are burgers that, as you may have guessed, originate from plants. Before all the carnivores scatter, know that each brand contains different ingredients and unique profiles that may or may not be reminiscent of meat. So, it's very possible that you'll find a match for your taste buds! Typically, plant-based burgers contain a combination of some of these ingredients: grains, legumes, soy, veggies, pea protein, wheat gluten, coconut oil, or polyunsaturated oils. But, brands differ in both ingredients and manufacturing processes, so keep reading to find which plant-based burger you'd like to try!
Beyond Meat vs. Impossible Burger
While both Beyond Meat and the Impossible Burger may obtain a carnivore's stamp of approval, they do differ in ingredients. Beyond Meat is a non-GMO product that uses pea protein and gets its red color from beet extract. On the other hand, the Impossible Burger contains soy leghemoglobin, which gives that ever so desired "bleeding" effect on the grill. Despite a few underlying differences, both burgers contain similar calories, grams of protein, sodium, saturated fat, iron, and fiber.
Beyond Meat
Beyond Meat is a vegan meat substitute made from pea protein isolates, rice protein, and mung bean protein. While some say it has a coconut aftertaste, its overall taste and texture is similar to regular beef. This gluten-free burger is also a great option for those who have a gluten sensitivity or have celiac disease! You can find Beyond Meat in grocery stores such as Whole Foods, Safeway, and Sprouts. You can also find them served at Carl's Jr, TGI Fridays, and Del Taco. (17)
The Impossible Burger
The Impossible Burger confused meat-eaters everywhere. This plant-based patty not only looks like beef but also bleeds and sizzles on the grill. This meat-like texture, mouth-watering flavor, and familiar aroma is a result of heme, which resembles the molecule found in beef. Many people cannot even tell the difference! Hard to believe? Give it a try! This is available at Wegmans, Gelsons, Burger King, Red Robin, and White Castle!
What about the Boca Burger?
The Boca Burger, which has been popular since I've been a kid, is another veggie patty made from soy protein and wheat gluten. When it comes to taste, the Boca is packed with flavor but needs a moisture boost, like a topping of mayo, ketchup, hummus, or avocado. There's a variety to choose from! Unfortunately, all varieties of the Boca Burger contain gluten, so those who need this restriction should opt for other gluten-free veggie burger options.
My Personal Favorite – The Organic Sunshine Burger
When I'm pressed for time, and I've run out of my bulk cooked and frozen black bean burgers, the Organic Sunshine Burgers are a stand-in favorite. This organic whole food patty only has five ingredients. Brown rice. Sunflower seeds. Carrots. Chives. Sea salt. That's it! No mysterious fillers or unpronounceable ingredients. This protein-packed and high fiber patty will leave you both full and satisfied. I defrost it briefly in the microwave and then cook on a cast iron pan served up with sharp cheddar, roasted eggplant, or other savory toppings. It's also good with tomato, pickle, and ketchup! If you are looking for wholesome goodness, these are a must-try!
Nutrition: Beef vs. Plant-Based Burgers
Plant-based burgers have the added benefit of phytonutrients over beef, which contains none. These plant compounds give plant foods their color and flavor, and each phytonutrient has unique health benefits. There can be thousands of these nutrients in plant-based foods. They have shown positive effects on cell signaling, gene expression, and inflammation. They have cardio and brain-protective properties and can slow the development of several types of cancer. These nutrients also offer unique health and performance benefits to everyday exercisers and athletes, which I discuss and breakdown the benefits by category in my new book, The Plant-Based Boost, Nutrition Solutions for Athletes and Exercise Enthusiasts. It's available in hardcover in color, softback on Amazon, and also at Barnes and Noble.
Protein
Contrary to popular belief, certain plant-based burgers can match the protein content of a typical beef burger. Regular beef patties range from 15 grams at McDonald's to 29 grams at Shake Shack (27,28), and a plant-based patty ranges from 4-26 grams. Use the chart below if you're looking to pack in protein for those hard workout days!
Fiber
This is a big win for plant-based burgers since beef naturally does not contain fiber, and most Americans don't consume enough fiber. The recommended intake for fiber for adults under 50 years of age is 25 grams per day for women and 38 grams for men. For those over 50, the recommended intake is 21 grams for women and 30 grams for men. (20) Most plant-based burgers provide 3-6 g of dietary fiber, which will help give you that fuller feeling! A high-fiber diet can also help lower cholesterol, cancer risk, osteoarthritis incidence, and regulate blood sugar – plus it has an anti-inflammatory effect. Talk about a powerhouse nutrient!
Saturated Fat
While regular burgers have around 3-14 g of saturated fat (McD's to Shake Shack), plant-based burgers range from 0-8 g per serving. The hamburgers that look to mimic the appeal of beef burgers tend to be higher in saturated fat since they include coconut oil and cocoa butter, plant-based sources of saturated fat. Read the labels and opt for those lower in saturated fat when choosing a plant-based option.
Iron (Fe)
The Impossible Burger and Beyond Burger provide a whopping 25% for females and 50% for males of one's daily iron needs, which is twice the amount of a beef burger. Meat contains heme iron, which is better absorbed than the supplemental non-heme iron added to the faux burgers. (3) If you are looking to boost your body's iron absorption and storage, pair your plant-based burger with a side of high vitamin-C! Some high vitamin C foods include bell peppers, kiwi, cantaloupe, strawberries, oranges, papaya, broccoli, and tomatoes. (4)
Give an Iron Boost with a Cast Iron Pan: Research has found that using an iron skillet can significantly increase iron in foods. Acidic foods absorb iron the best because of their high moisture content. The longer you cook, and the more frequent you stir in an iron skillet, the more iron will be absorbed in your food! (5) Cooking in a cast iron pan is an easy way to help increase iron intake for those with poor intake or with iron-deficiency anemia, along with other dietary changes! (6)
Sodium (Na)
As a general rule of thumb, most packaged foods have higher sodium content than homemade foods, since it's used as a preservative. Compared to beef burgers, there can be significantly higher sodium content in plant-based burgers. Read the labels –not all of them are high, and if you're not using a saltshaker and eating home-cooked foods daily, then you should still be within sodium recommendations. (8) Ideally, an adult should limit sodium intake to 1500 to 2300mg per day. (26) With the average plant-based burger ranging between 240-540mg, it can add up quickly! As a way to minimize salt intake, opt for low sodium add-ons such as beefsteak tomatoes, avocado, and lettuce. It's also a great way to boost the flavor and add some additional fiber!

Potassium (K)
More like potassi-YUM. This nutrient is important in all tissues of the body because it helps maintain fluid balance, nerve signals, and is used for muscle contractions! (9) Plants are naturally higher in potassium, so it's no surprise they beat out beef in this area. But, if you want to enjoy your beef burger, but still get a potassium boost, try adding baby spinach leaves, tomatoes, roasted veggies (sweet potatoes, mushrooms) homemade cashew cheese, or avocado! (21)
Zinc (Zn)
Vegetarian burgers that are packed with legumes and whole grains tend to have a large proportion of zinc. However, these zinc sources tend to be less readily absorbed, in comparison to animal products. In fact, a cooked 5 oz. beef patty has around 5 mg of zinc, which provides 45% of the RDA for males and 60% for females for those over 19 years of age. So while we can't rely on most veggie-burgers to supply the body with adequate amounts of zinc, you can include nuts, fortified cereals, and whole grains to meet your needs. (7)
Selenium
Talk about a critically important mineral! Selenium helps create DNA, maintain thyroid function, and can protect the body from oxidative stress! (10) A 5-ounce beef burger offers about 17 mcg of selenium (32% of the RDA) whereas the USDA data base lists the average vegetarian patty having 16 mcg. (3) For the plant-based eaters, you can also find selenium in Brazil nuts, cottage cheese, brown rice, whole-wheat bread, oatmeal, spinach, lentils, milk, and yogurt.
Genetically Modified Foods (GMO)
With the exception of the Impossible Burger, many of the plant-based patties are non-GMO. But, you can't make a burger bleed without a little genetic engineering. It is ultimately the trade-off for its meat-like, fleshy appearance and aroma. (13) There is some concern over its ingredient, soy leghemoglobin. This manufactured heme structure gives the desired "bleed" effect. In fact, this highly processed soybean derivative has an almost identical structure to the heme iron found in red meat. It's the reason why meat-eaters often cannot tell the burgers apart! So, is the Impossible Burger really a healthier alternative to beef? The research conducted on soy leghemoglobin consisted of a 28-day short-term study, which didn't examine cancer risk. The FDA approved it as a color additive. However, it may pose similar cancer risks as red meat, based on its structural similarities. (22,23) The Impossible Burger, like beef burgers, may increase one's risk of cancers, specifically in the colon, if over consumed. However, it does have a lower environmental impact.

Environmental Benefits of Plant-Based Burgers
One of the main driving forces of plant-based eating is the eco-footprint! According to the World Resources Institute, substituting beef burgers with plant-based alternatives has substantial environmental benefits. For instance, it reduces the use of resources such as water, land, and also decreases overall gas emissions. In fact, "beef requires 20 times more land and emits 20 times more greenhouse gas emissions per gram of edible protein than common plant proteins, such as beans." (15) Furthermore, it also takes approximately 1,800 gallons of water to produce one pound of beef. (18) And, since the majority of the cropland is used to produce corn, soy, barley, and grain used for animal feed, adopting a more plant-based diet will also save land and increase food resources. Let's also not forget about all the trees that are cut down for animal and feed production! (24) If helping the environment is important to you, consider adopting a more plant-based diet. (25)
Antibiotics in Meat
Antibiotics are factory farming's way of preventing diseases in animals that live under stressful and cramped conditions. Unfortunately, the more antibiotics get used, the more bacteria will adapt, and the less effective they become. This overexposure can ultimately result in major health issues. According to Infection Control and Hospital Epidemiology, 160,000 deaths a year are caused by antibiotic-resistant infections in the US. (16) Boosting plant-based sources of foods helps decrease secondary antibiotic exposure and helps lower the byproducts of these medications entering our water and streams.
In the end, most plant-based burgers are an easy, tasty, and environmentally friendly way to fuel you and your family. If you are looking to amp up your meatless-Monday, or merely trying to boost your vegetable intake, give a plant-based burger a try! There are countless combos of unique tastes that can win over even the most skeptic carnivores.
How to Choose Your Perfect Plant-Based Burger
There are a lot of options to consider when choosing a plant-based burger. High protein. Soy-free. Gluten-free. High Fiber. Low sodium. Minimally processed. Whole food ingredients. Use the table below to find your perfect match!
Meat, Faux Meat, and Meat Substitutes
| | | | | | | | | | | | | |
| --- | --- | --- | --- | --- | --- | --- | --- | --- | --- | --- | --- | --- |
| Name | PRO source | PRO/4oz serving | Fiber | Saturated fat | Copper | Iron | Zinc | Calories | Sodium/4oz serving | Potassium | Gluten-free | GMO or non-GMO |
| Beyond Burger | Pea protein, rice protein, mung bean protein | 20g | 2g | 6g | – | 25% | – | 250 | 390mg (16%) | 300mg (6%) | Yes | Non-GMO |
| Impossible Burger | Textured wheat protein, soy protein isolate | 19g | 3g | 8g | 0 | 4.2mg (25%) | 5.5mg (50%) | 240 | 370mg (16%) | 15% | Yes | GMO |
| Beef Burger | Beef | 15-29g | 0g | 7g | .075mg | 2.33mg | 5mg | 230 | 75mg (3%) | 0mg | Depends | Depends |
| Amy's California Burger | Bulgur wheat, oats, walnuts, wheat gluten | 6g | 4g | 0.5g | – | 8% | – | 150 | 500mg | 240mg | No | Non-GMO |
| Lightlife Burger | Pea protein | 20g | 2g | 2.5g | – | 3.8mg (20%) | – | 270 | 540mg | 200mg | Yes | Non-GMO |
| Boca Burger (All American) | Soy protein, cheddar cheese, wheat gluten | 13g | 4g | 1g | – | 10% | – | 100 | 350mg | – | No | Non-GMO |
| Dr. Praeger's California Veggie Burger | String beans, oat bran, soybeans | 5g | 5g | 0.5g | – | 1.5mg (8%) | – | 130 | 250mg | 250mg (6%) | No, but they have a GF version | Non-GMO |
| Sol Cuisine Portabella Mushroom & Wild Rice Burger | Soy protein, brown rice | 8g | 3g | 0.1g | – | 1.25mg (7%) | – | 60 | 300mg | 175mg | Yes | Non-GMO |
| Gardenburger Portabella Veggie Burger | Brown rice, whole grain oats, mozzarella cheese, soy protein concentrate and isolate | 4g | 5g | 0.5g | – | 0.5mg (2%) | – | 90 | 460mg | 140mg | No | Non-GMO |
| Morning Star Farms Garden Veggie Burger | Soy flour, egg whites, oats, wheat gluten, veggies | 11g | 4g | 0.5g | – | 0.9 | – | 110 | 390mg | 150mg | No | GMO |
| Trader Joe's Hi-Protein Veggie Burger | Pea protein, brown rice flour | 26g | 4g | 1g | – | 6.89mg (38%) | – | 260 | 480mg | 0mg | Yes | Non-GMO |
| Hilary's World's Best Veggie Burger | Whole grain millet, veggies | 3g | 3g | 0.5g | – | 1.3mg (8%) | – | 160 | 260mg | 110mg (2%) | Yes | Non-GMO |
| Gardein Burger The Ultimate Beefless Burger | Textured wheat protein, wheat gluten, Soy protein concentrate and isolate, ancient grain flour, pea protein | 16g | 2g | 0g | – | 10% | – | 130 | 320mg | – | No | Non-GMO |
| Organic Sunshine | Brown rice | 15g | 6g | 2g |  – | 17% | – | 360 | 480mg | 450mg (13%) | Yes | Non-GMO |
Select References
Diet, nutrition, physical activity, and colorectal cancer [PDF]. (2018). American Institute for Cancer Research. Retrieved from https://www.wcrf.org/sites/default/files/Colorectal-Cancer-2017-Report.pdf
Get the facts on fiber. (n.d). American Institute for Cancer Research. Retrieved from

https://www.aicr.org/reduce-your-cancer-risk/diet/elements_fiber.html

Beyond burger vs. impossible burger vs beef burger for vitamins & minerals. (n.d). Consumer Lab. Retrieved from https://www.consumerlab.com/answers/beyond-burger-vs-impossible-burger-vitamins-minerals-comparison/beyond-burger-impossible-burger/
Vitamin C fact sheet for health professionals. (n.d). National Institutes of Health Office of Dietary Supplements. Retrieved from

https://ods.od.nih.gov/factsheets/VitaminC-HealthProfessional/

Does cooking with cast iron pots and pans add iron to our food? (n.d). Go Ask Alice, Columbia University. Retrieved from

https://goaskalice.columbia.edu/answered-questions/does-cooking-cast-iron-pots-and-pans-add-iron-our-food

Clark, C. (2018).

 

Use cast iron cookware as an iron deficiency treatment. University Health News Daily. Retrieved from

https://universityhealthnews.com/daily/energy/use-cast-iron-cookware-as-an-iron-deficiency-treatment/

Zinc fact sheet for consumers. (n.d). National Institutes of Health Office of Dietary Supplements. Retrieved from

https://ods.od.nih.gov/factsheets/Zinc-Consumer/

Salt assault #7 and #8: meat-like burgers and veggie burgers. (2017). Center For Science in the Public Interest. Retrieved from https://cspinet.org/resource/salt-assault-7-and-8-meat-burgers-and-veggie-burgers
Potassium health sheet for health professionals. (n.d). National Institutes of Health Office of Dietary Supplements. Retrieved from

https://ods.od.nih.gov/factsheets/Potassium-HealthProfessional/

Selenium fact sheet for health professionals. (n.d). National Institutes of Health Office of Dietary Supplements. Retrieved from

https://ods.od.nih.gov/factsheets/Selenium-HealthProfessional/

Jin, Y., He, X., et al. (2018). s. Mol Nutr Food Res, 62 (1). Doi: 1700297
Lefferts, L. (2019). "Barebones" FDA review of impossible burger's soy leghemoglobin inadequate, says CSPI. Center for Science in the Public Interest. Retrieved from

https://cspinet.org/news/barebones-fda-review-impossible-burger-soy-leghemoglobin-inadequate-20190903

Ranganthan, K., Vennard, D., et al. (2016). Shifting diets for a sustainable food future. World Resources Institute. Retrieved from

https://www.wri.org/publication/shifting-diets

What is a Ruminant Animal [PDF]. (n.d) Canadian Cattlemen's Association. Retrieved from

http://www.cattle.ca/assets/Uploads/232d540861/ruminants.pdf

Waite, R., Searchinger, T., Ranganathan, J. (2019). 6 pressing questions about beef and climate change, answered. World Resources Institute. Retrieved from https://www.wri.org/blog/2019/04/6-pressing-questions-about-beef-and-climate-change-answered
Branch, J. (2019). Most fast-food chains still serve beef raised with antibiotics. Consumer Reports. Retrieved from

https://www.consumerreports.org/overuse-of-antibiotics/most-fast-food-chains-still-serve-beef-raised-with-antibiotics/

Capritto, A. (2019). Impossible burger vs beyond meat burger: taste, ingredients, and availability, compared. Retrieved from https://www.cnet.com/news/beyond-meat-vs-impossible-burger-whats-the-difference/
Barnard, N (2019). How Eating More Plants Can Save Lives and the Planet. Retrieved from https://www.pcrm.org/news/blog/how-eating-more-plants-can-save-lives-and-planet
Consumer Reports. Retrieved from

https://www.consumerreports.org/media-room/press-releases/2019/08/statement-on-impossible-foods-beef-with-consumer-reports/

https://www.nutrition.gov/faqs

Accessed 3/14/2020
https://fdc.nal.usda.gov/

Accessed 3/14/2020

https://www.consumerreports.org/media-room/press-releases/2019/08/statement-on-impossible-foods-beef-with-consumer-reports/

Accessed 3/14/2020

https://cspinet.org/news/barebones-fda-review-impossible-burger-soy-leghemoglobin-inadequate-20190903

Accessed 3/14/2020

Halas M. Part 4: Special Considerations for Vegans and Vegetarians. The Plant-Based Boost Nutrition Solutions for Athletes and Exercise Enthusiasts. Middletown, DE: Super Kids Nutrition Incorporated, 2019.
American Heart Association.

https://www.heart.org/en/healthy-living/healthy-eating/eat-smart/nutrition-basics/aha-diet-and-lifestyle-recommendations

 

Accessed 3/14/2020
McDonalds

https://www.mcdonalds.com/us/en-us/product/hamburger.html

Accessed 3/14/2020
Shake Shack

https://cdn.shakeshack.com/wp-content/uploads/2016/11/SHA_NutritionFacts_ShakeShack-10.27.17.pdf

Accessed 3/14/2020