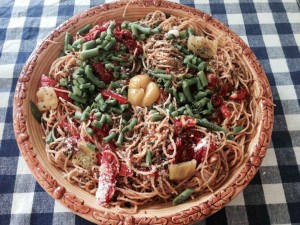 This pasta dish is an easy and tasty dinner that you can whip up any night of the week that will please your entire family! Using whole-wheat pasta increases fiber in your family's diet. Turkey Bolognese pasta can be altered to your liking with toppings or add-ins like chopped vegetables from your garden or a variety of cheeses! Try out this recipe and let me know your favorite things to add to pasta. I added fresh green beans and yellow tomatoes from my sister's garden –but you can add what you have on hand.
Ingredients:
1 lb whole wheat spaghetti
½ Cup chopped green beans or any fresh veggie you have on hand
5 Garlic cloves chopped
1 Handful of basil leaves
5 Sun dried tomatoes chopped
1 Fresh tomato slivered
1 Package of Turkey Bolognese from Trader Joes
2 Tbps Locatel (Parmesan can be substituted)
Directions: Makes 8 servings
In a large pot, bring water to a boil and cook pasta until al dente.
Prepare ½ cup of chopped green beans (or another veggie toppin) in microwave and set aside.
While pasta is cooking, roughly chop garlic, basil, and sundried tomatoes.
Drain pasta into colander and return to pot. Empty the contents of turkey Bolognese into pasta and warm thoroughly.
Incorporate the garlic, basil, and tomatoes into the pasta and sauce.
Wash and finely sliver one fresh tomato and place along with green beans on top of finished dish.
Accent with cheese.
Serve with side salad and fruit for dessert.
Nutrition Facts: Makes 8 servings
Calories: 349; Fat: 5g; Saturated fat: 1g; Carbohydrates: 57g; Protein: 24g; Sodium: 446 mg; Fiber: 10 grams