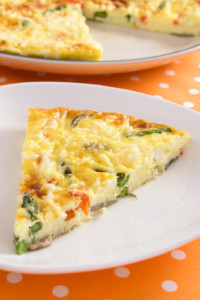 Looking for an easy, tasty dish to serve at parties? This strata will be a big hit!
So, I am no foodie. I don't even own a cookbook, but I DO love the strata! It's one of those night-before prep dishes if you want it to be. You can pack so much goodness in this dish that you'll get a surprise in every bite. Eggs are brain food, veggies are rich in vitamins and minerals, and whole grains are a source of fiber and fullness! It can be a breakfast, lunch, or dinner and reheats really well.
Makes 4 servings
Ingredients:
1 cup red peppers, chopped
1 cup green peppers, chopped
1 cup onions, chopped
3 cups spinach, chopped
1 tablespoon canola oil
1 tablespoon garlic, minced
4 whole eggs
1 cup skim milk
1 1/2 cups feta cheese (cheddar works well too!)
1/2 cup fresh basil, chopped
8 slices whole wheat sourdough bread, 1″ squares
cayenne pepper, to taste
black pepper, to taste
Directions:
Pre-heat oven to 400 (unless you are doing this prep work in advance, of course)
Sauté vegetables in canola oil and minced garlic. (Add the garlic last, so that it doesn't burn)
In a large bowl, whisk together eggs and milk. Add in cheese and basil. Season with cayenne pepper and black pepper.
Spray a casserole dish with non-stick spray.
Create layers (that's why it's called a STRATA!) with the bread on the bottom, then veggies, then custard, and repeat once.
Cook for 45 minutes or until internal temperature reaches 160 degrees.
Nutrition Facts: Each serving contains about 300 calories, packed with 20g protein, and 1 1/2 cups of veggies!
Stra-TA-TA!