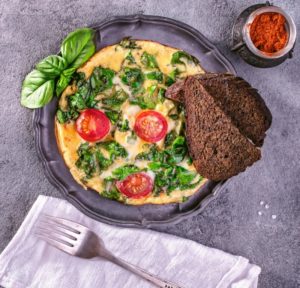 Breakfast's Benefits
It provides us with the energy and nutrients we need to perform better throughout the day.
It boosts our brain-power, which helps us concentrate better at work, or be more productive at home.
It can help us meet our nutrient requirements, for nutrients like calcium, vitamin D, and iron.
It prevents us from feeling weak or dizzy, getting headaches, or developing hunger pangs during the day.
It promotes a healthy weight—if you skip breakfast, you're more likely to overeat throughout the day by snacking, consuming large meals, and with nighttime munching.
Breakfast prep can be as easy as 1-2-3!
Plan ahead the night before with these few simple steps that can help make your morning stress-free:
Wash and chop the veggies for your omelet so you don't waste precious time in the morning. You can also purchase frozen veggies and place them in the fridge the night before.
Hard boil eggs for the week and serve on toast with a mashed avocado. Check out these other tasty toast recipes.
Wash and cut up the fruit for your yogurt, oats, or cereal or defrost frozen fruit in the fridge the night before.
Portion out your granola.
Have all the ingredients you need easily accessible at the front of the fridge so you don't have to go searching for anything.
If you're eating on the go, pack up your breakfast and just grab it on your way out the door.
If you're feeding other family members have the cereal boxes, bowls, and spoons laid out on the table ready for you to use in the morning.
Check out these helpful meal planning tips!