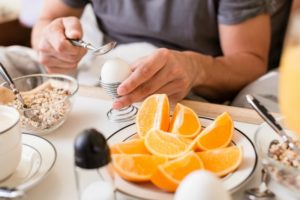 Have you always wondered if it really matters whether or not you eat breakfast? Well, I have an answer for you—breakfast is essential to starting your day off right! Skipping it altogether can actually be detrimental to your health goals. But keep in mind that it doesn't have to be a big meal. Even a handful of walnuts and a banana for those who can't stomach the idea of a sit-down meal can start you off in the right direction.
The best part about breakfast is that eating it can help you maintain or lose weight, depending on your goals. It also helps us to avoid impulse choices later in the day that likely aren't very nutritious! Take a look at the following tips to help you put together a winning and balanced breakfast:
Always include a fiber source at breakfast to start off your day right, help lower-inflammatory processes, keep cholesterol in check and boost satiety (feeling full).
A fruit or vegetable provides vitamins, minerals, and phytonutrients, and a lean protein helps with satiety.
If you skip whole grains at breakfast be sure to include them at lunch and dinner!
Do a color check: did you have blueberries or raspberries for breakfast? If so, aim for green and orange veggies at lunch, or garbanzo or (beige) black beans (black) or kidney beans (brown) with dinner!
Pick a food from each food group to make sure you get a balanced breakfast:
Select 1 Serving of Protein-rich Food
Select 1 Serving of a Whole Grain
Select 1 Serving of a Fruit or Vegetable

1 whole wheat tortilla
1/2 cup cooked oatmeal
1 slice of whole-grain bread
1 cup dry cereal (cheerios, bran)
1 whole-wheat English muffin
1 mini whole wheat bagel
1/2 whole wheat bagel
2 small whole-grain waffles
1/2 cup granola