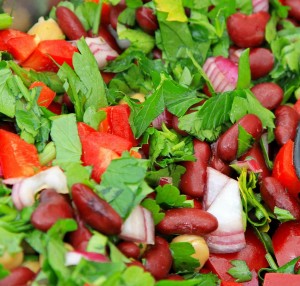 Making your own salad dressing can be fun, save money and cut down on food additives. Try making one with your partner, family or friend to see who adds the most creative flair.
Enjoy them with our suggested appetizer or entrée salads.
This post contains an affiliate link. As an Amazon Associate, we earn from qualifying purchases. The link is noted with an asterisk (*) or Amazon image.
Directions for mixing all recipes
Place all the ingredients in a medium-sized bowl and whisk until all ingredients are blended, or use a stainless steel electric frother.  The dressings will last up to 1 week in the fridge.
1. Basic Vinaigrette
2 tbsp red wine vinegar
1 tbsp Dijon mustard
1 tsp oregano
salt and pepper to taste
whisk in 4 tbsp olive oil until combined
2. Sherry Vinaigrette
2 tbsp sherry vinegar
1 tbsp minced shallot
salt and pepper to taste
whisk in 4 tbsp olive oil until combined
3. Asian Vinaigrette
2 tbsp rice wine vinegar
1 tbsp soy sauce
juice of one lime
1 tbsp honey
1 tsp sesame oil
1 tsp siracha (optional)
 4. Sweet Vinaigrette Recipe
1/4 c seedless jam (strawberry, raspberry, blueberry…)
1/2 c red wine vinegar
1/4 c olive oil
1/4 tsp salt
fresh ground pepper
*Makes about 1 cup
5. Balsamic Vinaigrette Hummus Dressing
Take 1-2 tbsp of your favorite balsamic vinaigrette and mix with 1 tsp of balsamic vinegar and 1 tbsp of hummus for a creamy, rich and easy dressing.