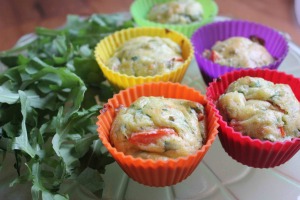 Here's a new way to enjoy the creamy, tart and early flavor of goat cheese in a savory gluten free muffin.
Ingredients
½ cup finely chopped arugula
1 pastured egg and 1 pastured egg yolk, beaten
¼ cup gluten free corn bread meal (no sugar added)
1.5 oz. goat cheese
2 tsp. pastured butter
¼ cup thinly sliced cherry tomatoes
Salt and pepper to taste
Directions:
In a bowl, mix all ingredients together well
Divide among 6 small prepared muffin cups and bake on 350 for 15-20 minutes until browned
Check out Melissa's Healthy Living recipe section, most of them are gluten free!