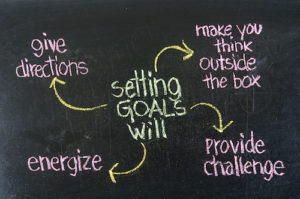 Achieving your desires takes more than being able to talk the talk. You also have to walk the walk! It takes strategizing, planning, and lots of doing! The reality is that it's easy to get caught up in life's chaos, only to cast your goals aside. But this year is going to be different! Check out these must-have tips to learn how to decrease distractions, use social accountability, and self-appraisal plans to transform your health goals into a reality.
Identify your BIG picture goal for your health
If you had the opportunity to accomplish your ultimate fitness, nutrition, or health achievement, what would it be? You know…the one that you dream about but may currently feel out of reach. Now, say it out loud—not just to yourself, but to friends and family as well. Social accountability can help keep you on track and make your goals even more concrete. When talking about your goal, use action verbs like can, will, and do.
Set Short & Long-Term Goals
You can't achieve a goal that you have yet to set. In other words, merely setting a goal can significantly increase your performance progress. Easy-peasy!
First, start by establishing your long-term goal. For example, your goal may be to finally build a stronger core, lose 30 pounds, or run a half marathon. While at first glance, some goals may seem far-fetched. But, break down your long-term goal into smaller, more concrete goals that will build towards your success. This year's goal of losing 30 pounds may change to 2-2 1/2 pounds of weight loss each month. How much more reasonable and achievable does that sound? What a way to take the pressure off!
Next, determine what specific actions are required to shed those monthly pounds. Do you need to cut back on alcohol and sweets? Increase your strength training? Get more sleep? Tie each daily action into your BIG picture goal. Don't forget to check in each week and adjust your behaviors as needed to keep on track.
For a stronger core, maybe it's scheduling in 20 minutes of yoga before meal 3-4 times a week, but making it a rule to do 3 minutes of plank intervals before each session. You've got to schedule in and strategize a plan! If mornings are crazy, maybe your best bet is to do yoga before you eat lunch. This may require you to cook the night before, so you're not so hungry for lunch you skip yoga. Understand the process needed behind each specific goals to set yourself up for success.
Don't try to conquer everything at once.
Give your goal the respect that it deserves. After all, if it were able to be conquered all at once, it wouldn't be one of your long-term goals. So, embrace its complexity and break down these goals up into smaller yet meaningful actions. Don't forget to schedule them into time slots to avoid multi-tasking. For example, if you're planning to buy an exercise bike, maybe you need to clean out the area first, so you have space for it! If you buy the bike without clearing space first, it may sit in the box for weeks before you actually set it up and put it to use.
Continue reading How to Accomplish Your Health Goals Part 2 for more goal setting tips!