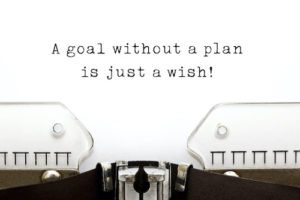 New year, new goals! Pump up your productivity with these additional strategies to facilitate small daily changes that amount to big rewards.
In case you missed it, check out "How to Accomplish Your Health Goals Part 1" to learn the ins and outs of setting big-picture objectives to achieve your wellness goals.
Know the time of day when you are most productive.
Are you an early bird or a night owl? Use the time that you are most productive to work towards your BIG health goal. Think about how you can recreate that same productive environment to extend it to other days and times during the week.
Stay honest with your goals.
As you progress, give yourself weekly performance appraisals on your goals. Self-evaluations are an excellent way to reflect on your goal status, progression – or lack thereof. If you are surpassing your goals with flying colors, perhaps it's time to raise the bar! On the other hand, if you are struggling to progress forward, revisit your objectives to determine if they are truly realistic. If they are within reach, yet you're still struggling to meet your goals, re-evaluate your behaviors and mentality. Are you self-sabotaging the pathway to success? If so, assess what you need to change to make your dreams happen. Be brutally honest but then give yourself a much-deserved hug!
Be a consistent planner. 
Start and end each day with 5 minutes of planning using a system that works for you. Maybe it involves reviewing your health goals, evaluating the food in your pantry or freezer, laying out your gym gear, or prepping tomorrow's breakfast. But be flexible–life has a tends to get in the way. A good rule of thumb is to plan each activity to take 50% longer than you initially think it would. If you pad your schedule this way, you won't feel so overwhelmed!
Set Smart Goals.
When establishing your health goals, use this SMART checklist to ensure they include all the necessary components to set yourself up for success.
Specific
The more specific, the easier it is to stay on track. Rather than "I want to lose weight," be specific about exactly how much weight you want to lose. For each goal you set, you should list 2-3 strategies to help you meet that goal. If you're planning to eat more vegetables but aren't shopping for them and scheduling in quick, easy, and tasty ways to eat them, you won't reach the goal.
Measurable
Include some way of measuring your progress along the way. Figure out what and how you plan to measure your progress.
If you don't want to focus on pounds, try inches lost, muscle gains or clothing size.
If you're improving your diet, perhaps track you blood cholesterol levels.
Measuring can also include things like servings of vegetables to eat per day, versus I'll eat more vegetables.
Achievable
Choose a challenging goal, but one that is still feasible with hard work. Setting an unrealistic goal, such as dropping 5 pounds in one month, will only set you up for failure and disappointment. Improve feelings of self-efficacy by setting achievable goals. This added confidence will help drive your motivation for success! If you don't achieve it at first, figure out what challenged you most and how you can grow from it. Then jot down new strategies to help you reach your goal.
Relevant
Reflect on why this goal is meaningful to you. Why do you value it? Why do you want to achieve it? How will achieving it affect your life? Write your reasons on a post-it note and keep it somewhere where you can see it every day, like on the bathroom mirror or in the top of your sock drawer.
Time-bound
Make sure you add a timeline to your goal. If you skip this step, it becomes all too easy and convenient to push your goals to 'next month' or "Monday." For example, if your goal is to lose weight, how long are you giving yourself to achieve this objective?
Remember this when setting wellness goals.
There's never a perfect time to start. Work will be busy. You'll always have many personal responsibilities. And there may even be a global pandemic. But, despite life's chaos, make sure your goals are SMART. Utilize a schedule. Track your progress with self-appraisals. Continually evaluate your objectives—they are not set in stone. Use social accountability to keep you honest and true to your BIG goal. But, most importantly, remember that you can do this! For more fitness, nutrition support, and lifestyle tips, explore the content on Melissa's Healthy Living and SuperKids Nutrition. 
Book an appointment with me to help you reach your health goals!