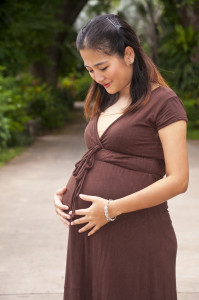 According to a recent study published May 19, 2009, in the online version of the American Journal of Obstetrics and Gynecology, 'eating for two' can have some undesirable outcomes both during and after pregnancy.
Research shows that those who consumed extra calories, as well as fried foods and dairy products, were more likely to gain more than is recommended during pregnancy – that's 35 pounds or more for a woman with a normal body mass index, or BMI. (Calculate your BMI here)
Complications of too much weight gain include:
Pre-eclampsia

Unplanned C-section

Increased odds of obesity for both mom AND baby
A healthy weight gain is possible, the study finds. Women with vegetarian diets in early pregnancy were half as likely to gain too much weight. Those who exercised vigorously for a half hour a day reduced their risk by 20 percent. Consuming more monounsaturated fat, found in olive oil and nuts, was linked with a lower risk of excessive weight gain.
The lesson her is that an appropriate weight gain during pregnancy, will likely lead to a healthy weight loss post-pregnancy. And remember this: Although 'eating for two' might be easy, 'losing for two' probably won't be. Read more about maternal weight gain in pregnancy.