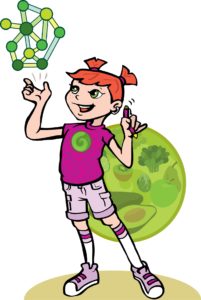 Hi Everyone!
It's Super Crew kid, Jessie here, ready to show you how to transform an avocado into some whole-y guacamole. Using my super powers, I transform a whole avocado into a yummy guacamole dip. The avocado is a small round fruit. It has a dark green skin that is very tough but easily removed. Guacamole is bright green, creamy and delicious.
Here's how you, too, can create this amazing transformation! Did I mention that avocados are one of my favorite foods?!
First, make sure an adult is there to help you. Then, get these ingredients together:
2 ripe avocados

1/2 red onion, minced (about 1/2 cup)

2 tablespoons cilantro leaves, finely chopped

1 tablespoon of fresh lime or lemon juice

A dash of cumin, freshly grounded black pepper and salt
Here's where the transformation begins…
Cut your avocados in half.

Twist the avocado so that the seed and the flesh separate.

Get rid of the seed (or you can plant it in the ground and watch it grow as a tree –learn how!).

Scoop the flesh out of each half and put in a bowl.

Using your super strength, mash the flesh with a fork.

Once it is all smooth, add onions, cilantro, and lemon juice. Sprinkle some spices and you have a great guacamole dip!
Eat with some baked red, blue or yellow tortilla chips for a tasty whole grain and heart healthy snack!
Like my style -come and learn with me: Growing Sprouts, Body Powers and Super Crew Books.
– Jessie