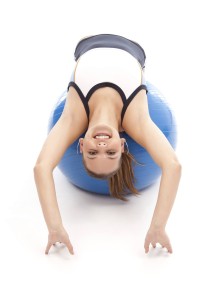 Going to the gym can be time-consuming, and sometimes all we have is 15-20 minutes! Why not bring the gym to you? Here are 9 gadgets to build your very own affordable home gym.
This post contains affiliate links. As an Amazon Associate, we earn from qualifying purchases. The links are noted with an asterisk (*) or Amazon image.
Bosu Ball
Bosu balls help with core strength and balance, both of which are very important – especially as you age. They are very versatile; BOSU stands for 'Both Sides Up'!
Bike Trainer Stand
A bike trainer stand* is an attachment for your outdoor bike to allow you to ride at home. Think of it as a bike-treadmill. It's more cost-effective than buying your own cycle machine and gets more use out of your outdoor bike when the weather outside may not be very favorable.
Iron Gym
Pull-ups aren't just for boys! Use a chair under your feet to help yourself do a pull-up until you can do one unassisted. Iron gyms* are great because they're easy to put away when you aren't using them and they take up little space.
Resistance bands
Resistance bands* are inexpensive, easy to store, and can be easily strapped to a door for a full-body workout. I love taking them on trips too so I know I always have an easy way to get a little exercise in.
Indo board
Become a pro surfer before hitting the water, work on ankle mobility, balance, and more with Indo Boards!
Kettlebells
Kettlebells burn calories fast! AmazonBasics Kettlebells* come in a variety of weights so that you can choose the size that is most appropriate for your abilities. Safety tip: make sure to get training about proper form before using these!
Stability Ball
One of the best things about stability balls is how versatile they are! For everything from hips to legs to abs, a stability ball can be used to activate numerous muscles at once for an efficient and challenging workout. I like the Dynapro Stability Ball*.
Yoga Mat
Having a mat at home that you love can help get you motivated to strike a pose. There are so many options out there these days that you can choose your preferred color, thickness, and portability. If you buy a portable one you can even be prepared to take it in your suitcase on trips.
Jump Rope
What a fun, fast and effective way to work out! There are many varieties of ropes, so have fun finding one that suits you best. Safety tip: never jump on one leg unless you're well-conditioned and very experienced at skipping rope, as it may not be good for your knees, hips or back.
Now that you have a list of some of our favorite gadgets, it's time to start building your own home gym.