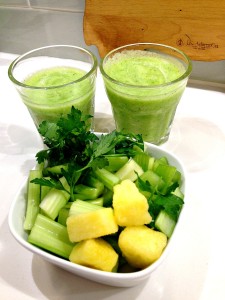 If you're looking for a revitalizing drink this pineapple parsley green smoothie is perfect!
Green smoothies are surprisingly refreshing and make a great mid-day snack or accompaniment to any meal. Parsley is full of vitamins A and C, has high antioxidant value and is important for heart health and the immune system. Parsley, a member of the carrot family, has also been shown to help protect against cancer.
Ingredients:
3/8 cup flat-leaf parsley (1/4 + 1/8)
3/4 cup up celery
2 1/2 cup frozen pineapple
1 1/2 to 2 cups water –for thicker shakes use less for smoother shakes use more
Directions:
Wash all ingredients
Cut celery into 2-3 inch pieces
Put all ingredients with water into a vitamix or nutri-bullet blender.
*Makes three 10 ounce servings
Nutrition Facts per serving:
 Calories: 75; Total fat: <1 g; Sat fat: <1 g; Carbohydrates: 20 g; Protein: 1 g; Dietary fiber: 2 g; Sodium: 26 mg