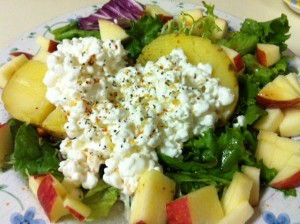 Potatoes can take a while to cook so I like to batch bake several potatoes individually wrapped in tin aluminum foil and keep them in the fridge for work and family for a few days. Any kind of potato will do – yellow, red, purple, orange, gold and white can be utilized as part of a delicious meal. Need a quick idea? You can top baked potatoes with spicy kidney beans, low-fat cheese, chives and plain Greek yogurt or low-fat sour cream. Another great way to use potatoes is to shred baked potatoes and cook into hash browns then serve with veggies and scrambled eggs.
Here's a quick and easy potato salad recipe:
Ingredients:
1 potato, washed and baked
1/3 Bag of mixed greens – green leaf lettuce, frisée, radicchio and carrots.
Fuji apple
½ cup Low-fat cottage cheese
1 teaspoon Trader Joes 21 Salute or a Mrs. Dash type herb blend
½ to 1 tablespoon Balsamic Vinegar or dressing of choice
Directions:
Wrap potato in tin foil and heat in the toaster oven for about 30 minutes before lunch. If you just don't have access to a toaster oven, slice potato and heat on skillet with a teaspoon of oil and tablespoon of water, flipping intermittently.
Rinse lettuce, drain, pat dry and plate.
Chop apple leaving the skin on.
Put baked potato, lettuce, and apple on a plate and top mixture with cottage cheese, herb blend and salad dressing on mixed greens.
Sit, eat and enjoy!