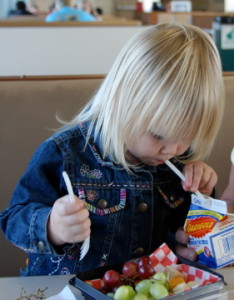 Kids are rarely prescribed a diet, unless their weight puts them at a critical or immediate health risk. Changing the types of foods that the child eats and adjusting the portions are better steps to preventing or treating overweight. These approaches work best for growing children, emotionally and physically.
Encourage your child to eat a healthy breakfast, to eat regular meals, and to engage in exercise most days of the week. Some research shows that, especially for teens, dieting can be counterproductive and can increase the risk of eating disorders and weight fluctuations.
It's best to help children create healthy eating patterns for a lifetime rather than teaching them to deny themselves needed nutrients or to ignore their body's hunger signals.  To help young children build a healthy relationship with food and to help your family avoid food struggles, focus on helping your child makes small changes, such as:
Help your child feel good about him/herself, no matter his/her shape or size, and model good health behaviors.
Focus on choosing healthier foods, increasing fruits and vegetables, whole grains, beans, and lean proteins.
Encourage more exercise by getting your child involved in sports, cycling (with a helmet and no head phones), dancing, playing outside, or any other activity he/she enjoys.
Get moving as a family by taking family walks, playing tag, creating your own games, or hiking together.
Be prepared to make several suggestions for food choices and exercises – kids can be reluctant to change at first.
Do your best to stay positive and remember that change can happen, but it progresses in small steps.