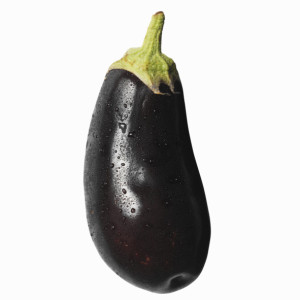 Tonight like most nights –I wanted something quick, easy and healthy. There were left-over turkey meatballs from the previous night and an entire baked eggplant untouched. While cooking the meatballs I had put a large eggplant in the oven along with a sweet potato. If I'm going to heat up the oven I try to put more than one dish in there. In addition to conserving energy it's a time saver for the next meal. I poked a few fork holes in the eggplant, poured a little olive oil in the holes, wrapped it in tinfoil and placed on a pan in the oven.
So tonight, I took one look at the eggplant and thought, is tonight the night my daughter will give eggplant a try again?  I thought I'd be in for the "mommy I tried it"… and as I look down on the barely touched spoon – I wonder if she really ate enough to taste it. An honestly whole baked eggplant doesn't look all that appetizing. So I said to her, "I think I'll make Baba Ghanoush?"  She responded, what's that? I said, it's Penny's favorite super fast food. My daughter loves to play Super Crew, so often this is how I encourage her to try new foods.
She watched me dump everything but the stem into the Cuisinart.  I added 2 small cloves of garlic, some oil (maybe about an 1/8 cup) and 3 heaping table spoons of tahini butter (sesame butter). I didn't add lemon, cumin or anything else. She assisted by pressing the on button of the Cuisinart and commenting on how great it smelled.  I served the dip with salted baked blue corn chips and it was delicious. We both had seconds. It was a great meal, packed with the health benefits of purple foods.