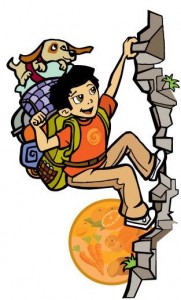 Hi Parents, My name is Andy and I am a Super Crew Kid! I am super strong, but I got this power from eating right and exercising everyday. I love staying active and having fun playing both outdoors and indoors too. Let's get all the kids together and exercise everyday for at least one hour! Is your family ready to get moving with me?
Choose from this list, or make up your own activities!
1. Walk your dog
2. Play Frisbee
3. Fly a kite
4. Go on a nature hike
5. Ride your bike
7. Rollerskate or rollerblade
8. Play tag
9. Play hopscotch
10. Jump rope
11. Have a hula hoop contest
12. Learn to juggle
13. Jump rope
14. Go swimming or run through the sprinkler
15. Wash the car
16. Shoot hoops
17. Play a sport with friends (soccer, softball, tennis, touch football)
18. Have a water balloon fight
19. Do jumping jacks, sit-ups and push-ups
20. Play miniature golf
21. Go bowling
22. Clean your room
23. Ride your skateboard
24. Have relay races
25. Take dance lessons
Gotta RUN!
Share what you do for fun!
Explore other great ways to be active by reading Homework: Play Everyday.