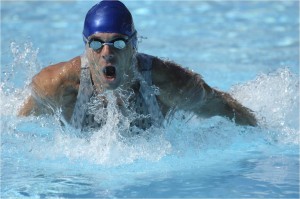 Tonight marks the beginning of the 2012 Olympic Games. Ask former  Olympians, and they will tell you how essential nutrition is to their training regimen and success. To meet the demands of the hours of their daily training, they need to provide their bodies with energy from the right macronutrients, healthy carbs, the right fats and lean proteins plus the essential nutrients derived from vitamins and minerals
There is a lot we can learn from an Olympian. While we might not be running marathons, swimming multiple laps, tumbling on the balance beam, or practicing skating routines for hours on end, each day, we can still make nutrition a priority by fueling our bodies with healthy foods to give us the energy and nutrients we need each and every day.
So while we cheer on our country and route for Team USA, let's keep in mind that a great deal of their success is that they listen to their bodies and nourish them with healthy foods all year long. We then can challenge ourselves over the course of the Olympic games to eat healthy and be active just like the Olympians!