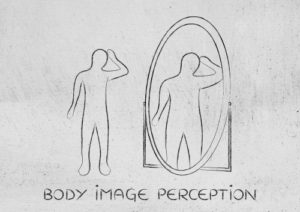 Parents want to ensure their parenting style has long-term positive effects on their children's emotional and physical well-being. Talking about weight and health in the right way is an important part of fostering a healthy body image and may also help decrease eating disorders later in life.
So watch out parents!  There's a new campaign in town and it features a super skinny stretched out Minnie! She's not the Minnie we've grown up with – this one looks like she could be blown away by a light breeze.  Barneys New York and The Walt Disney Company are releasing a 2012 Holiday Campaign featuring a mix of fantasy and reality as Minnie Mouse dreams of attending the famed fashion shows in Paris and is transformed into a fashion model.
Creative director of Barneys New York, Dennis Freedman, stated, "The standard Minnie Mouse will not look so good in a Lanvin dress." So why, then put her in the campaign? Sadly, they are even selling vinylmation figures of Skinny Minnie for the holidays and we know that kids will be asking for these.
It's wrong on so many levels… but to see Minnie suddenly grow several feet taller, and cut her original weight by more than half is appalling. In the United States, as many as 10 million females and 1 million males are fighting a life-and-death battle with an eating disorder such as anorexia or bulimia. What kind of message is Disney sending to our kids? Especially with 40% of 1st to 3rd-grade girls already struggling with body dissatisfaction and that's just the age that Minnie appeals to!
Tween's sense of body image is influenced by not understanding what is happening to their bodies, strong media influence through a constant bombardment of television and magazines, all combined with peer pressure and the self-consciousness of puberty. With an increased desire for acceptance and judgment about what is perceived to be normal, body image issues that arise during these years can cause serious problems when taken to an extreme. When you check out Skinny Minnie, you'll see just how extreme it is! Here's an image: https://screenertv.com/news-features/skinny-minnie-mouse-draws-protests-should-barneys-new-york-cancel-the-campaign/
So what can you do with your kids to combat our toxic environment?
Increase awareness- Talk with your child about how confidence can be affected. Start an open dialogue so that your child can feel comfortable sharing the pressures he or she may be experiencing, especially when it is time for puberty.
Focus on Strength– Emphasize health benefits from foods such as strong bones and teach your children how fueling with a variety of foods from all food groups provides energy and strength. Encourage your children to look at healthy food as power, not something leading them to count calories or weighing themselves all the time.
Discuss Marketer's Intentions – Explain how companies capitalize on individual's fears, desires and concerns to make money. Teaching your children that Barney cares about the bottom line and not their well-being may help them understand the distortion of the campaign.