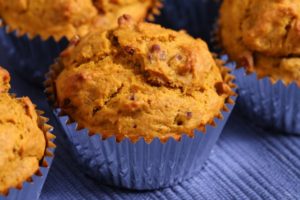 Hey, East Coasters, don't let the hurricane blues bring you down! After being stuck inside for the day due to the impending arrival of Hurricane Sandy, aka "Frankenstorm" to keep in the Halloween spirit, I decided to rummage through my kitchen to see what I could bake to lighten my mood. The first two things I saw were canned pumpkin and dark chocolate chips – ding ding ding! Whole wheat pumpkin chocolate chip muffins came to mind. I found a recipe online, adapted it slightly, and whipped up this delicious Halloween treat. They were quick and easy and once I took that first bite, my cabin fever disappeared. Make sure to get the kids involved with simple tasks like measuring, mixing and washing dishes.
Whole Wheat Pumpkin Chocolate Chip Muffins
Ingredients:
3/4 cup whole wheat flour
3/4 cup all-purpose flour
1 teaspoon baking soda
1/2 teaspoon baking powder
1/2 teaspoon ground cinnamon
1/4 teaspoon salt
1/8 teaspoon ground cloves
1 cup granulated sugar *try cutting down the sugar each time you make a sweet recipe, you can often cut by 1/3 and not taste the difference
1/4 cup packed light brown sugar
1 cup pumpkin puree
1/2 cup low-fat milk, at room temperature
2 tablespoons canola oil
1 large egg, at room temperature
1 cup dark chocolate chips
Directions:
Preheat oven to 375 F. Line a muffin pan with paper liners. Makes 12 muffinsIn a medium bowl, whisk together both flours, the baking soda, baking powder, cinnamon, salt, and cloves. In a separate bowl, combine both sugars, the pumpkin, milk, oil and egg. Mix until well blended. Next, add the dry ingredients and mix until incorporated. Finally, stir in the chocolate chips.
Fill each muffin tin ¾-full and bake for 25 minutes, or until a toothpick inserted in the center comes out clean. Let muffins cool 5-10 minutes before serving.
Recipe adapted from  Tracey's Culinary Adventures