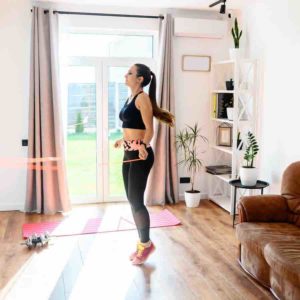 Deciding on an exercise routine to do at home can feel overwhelming. Here are a few motivating, fun workouts for at home to kickstart summer.
At-home workouts have drastically changed since the video era of neon bodysuits and leg warmers. Now, people have tons of at-home options to get their sweat on. Yoga. Strength training. High-intensity intervals. And yes, you can still do cardio at home! But, despite having a variety of exercise options at home, establishing a routine can still feel like a struggle – especially after months of quarantine when gyms still may not be open. You are not alone! Here are some tips on how to master the at-home workout.
Virtual Exercise Classes
Before quarantine, exercise classes were a way to relieve stress, reach your goals, and to socialize. Luckily, trainers have adapted to the times, and now offer a ton of different virtual exercise classes through social media and on phone apps. Or, if you're lucky enough to have a Nordic Track Bike or a Peleton, their apps offer a variety of classes, both on and off the bike. Call your friends, and reclaim your exercise regiment together. It's also a great way to keep each other accountable!
Cardio Exercises At Home
Like many, at one point, you decided to invest in an elliptical, treadmill, or stationary bike for your home. For the first few months, it felt like second nature to clock miles while watching your favorite television show. But, as time went by, your exercise machine slowly transitioned to being a coat rack, art piece, and everything in between. But, after months of being at home, it's time to transform your exercise machine back to its rightful purpose. Use these helpful tips!
Choose Fun Exercise Clothes
Home has become this blur of office, gym, and relaxation space. Many people (like myself) have yet to put on "real clothes" in months. While you can now work from home in your oversized hoodies and sweatpants, it may not make the best exercise outfit. If you have difficulty staying motivated during an at-home workout, try putting an outfit you would typically wear to the gym or an exercise class. The extra effort may make you feel less inclined to revert back to your desk or couch, and finish your workout.
Find Your Show!
Instead of Netflix or Hula being an inhibitor to exercise, let it be an enabler. Find a binge-worthy show. Then, put the goal that you can only watch this show during exercise. You would be surprised how easy it will be to get your daily cardio when you want to see the finale of "Tiger King." Did Carol Baskin really kill her husband? Dust off your exercise machine or fitness gadgets and find out!
Change Your Setup
Many of us had the ambitious goal of turning a basement into an at-home gym. Okay, maybe the word "gym" is a stretch. But, there is a stationary bike and free weights next to the laundry machine. That being said, the cold and dimly lit room is less than an appealing place to get your sweat on. For the time being, consider moving your exercise machine upstairs, or in front of a window. Having something to look at always helps pass the time.
Use What You Have for Fun Workouts at Home!
Don't miss a beat! If you don't have an exercise machine, there are plenty of other ways to break a sweat. Rather than putting your goals on hold, use these helpful tips.
Try Resistance Band Exercises for Legs and Arms
If you are longing for your barbells and cables, mimic your strength training workouts with the help of resistance bands. Squats. Deadlifts. Curls. You can do it all! Increase your repetitions to reach the same level of fatigue that you achieve in the gym. With different levels of intensity, you would be surprised by how challenging a resistance band workout can be.
Bring Insanity and P90X Back
For years, workouts such as "Insanity" and "P90X" were the trendiest workouts around. Tony Horton and Shaun T provided daily workouts that were challenging, diverse, and required minimal to no equipment. Your goals will not skip a beat with these intense workouts, guaranteed! Just listen to your body and avoid overextending your joints and it can be part of a healthy fitness regiment.
At-Home Arm Workouts Without Weights
It is time to see your furniture more creatively and to build those toned arms you've been wishing for! The coffee table can be used for triceps dips. Kitchen chairs can be used for incline and decline pushups. Hand towels can be used as exercise sliders (which truly work your whole body!). Get creative with your surroundings to make the best of your at-home workout. But if you need professional fitness gadgets to get or stay motivated consider buying used gym equipment. From my dumbells to my treadmill, I've bought used or refurbished gym grade equipment at a fraction of the original price.
Get Moving Outside!
While some areas still have rules that don't allow you to attend your favorite exercise class or park, you can still spend time in nature. Runs for that runner's high. Bike for speed. Open water swims to cool off. Hike to connect with nature. Channel your inner child and rediscover your love for the outdoors. Spending some time in the sunshine can also boost morale and get some much-needed vitamin D! But, don't forget your mask and social distancing etiquette, especially when you're breathing more heavily.
In the end, exercise is an outlet to relieve stress and is a reliable way to focus on both our physical and mental health. The pandemic has left the world in limbo, but that doesn't mean we can't have fun with the things we can do! So, with a little creativity and effort, it's time to establish a new normal. You may even end up reconsidering that gym membership once you're in your new routine. What fun workouts at home do you want to try first? Now, go get it and commit to that exercise routine!