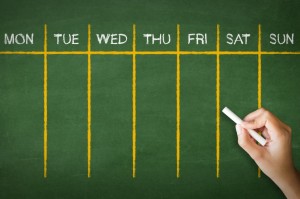 It's possible to find a weekly exercise routine that's fun and motivates you to stay active! A little planning can go a long way. Here's how to get started.
I often hear, "I didn't have enough time for a full work out, so I didn't bother" or "I prefer to work out first thing in the morning, and it's just impossible now with my commute." Instead of making excuses, take a moment to think about your weekly exercise routine before the week starts. Find a time to get your body moving that works for you – even if that time isn't always consistent. Here are some tips to help you "schedule" your workouts.
Commit to exercising at the same time each day
If sticking to a schedule works for you then make it part of your daily routine at the same time. There will be less of a chance that you skip it because it's already planned and you don't have to think about it. Signing up for one or two classes a week at a gym or local studio at that same time can also help you stay in your routine. Remember, exercise should be fun, not feel like a chore.
Allow flexibility with your weekly exercise routine 
Can't commit to the same time or exercise each day? Choose to have a can-do, flexible attitude, and workout whenever you can squeeze it in – but still commit to a couple of potential time frames. On the weekends it may be in the morning, during the weekdays it could vary from 3 pm to 8 pm – commit to exercising a set number of days, even if it's not at the same time every day. Make sure to add variety to keep things interesting. Also, accept that any exercise is better than nothing! For example, I like to meet a certain mileage when biking for an hour, I may only meet a third of that milage goal for the same amount of time because I don't have the same energy at night.

Make yourself a personal workout plan in the form of a monthly calendar
Set a monthly goal for a total number and type of workouts, and then mark those days on the calendar. If you miss a scheduled workout, you know you have to make it up on another day if you want to hit your monthly workout goal! This can also make sure you're getting in resistance training (weight lifting, some yoga poses), cardio (biking, hiking, running) and stretching, After several months of this, you'll be able to look back at your calendar with pride, seeing all of the workouts you accomplished.
Find a social accountability partner
We can all use a little boost from others at times. Setting out to complete a task or workout with someone else can even decrease our perception of the difficulty of getting it done. So, find one or two people who are interested in some of the same activities as you and schedule time in the week to get your hearts and muscles pumping together.
Still struggling to make it happen?
If you get the 3 o'clock work slump, know you're usually tired after work, and have work flexibility, try putting on your sneakers mid-afternoon instead. This can be part of your commitment to exercising in smaller increments. Or, set aside 15 minutes in the morning, walk for 15 minutes at your lunch break. Thirty minutes of squats, sit-ups push-ups, and jumping jacks during your favorite TV program count too! Being sporadically active throughout the day quickly adds up to your desired health benefits by the end of the day.
Everyone gets off track once in a while, so don't be too hard on yourself. The best solution is to take the first step towards your next goal with excitement to accomplish something new.
Next, get more tips on how to stop skipping those workouts! Consider investing in some home fitness gadgets that may help you squeeze in those 15-minute routines, or sign up for a new, old or odd (but trendy) fitness class.