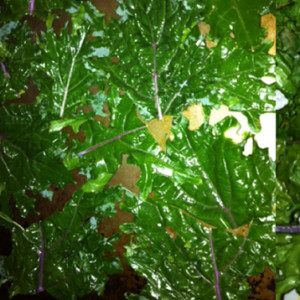 Last night we came back from a family event hungry. I made Kale chips which are always a big hit. When possible use flat kale verses curly kale -it's so much easier to coat with oil and doesn't seem to burn as much. Get the kids involved from the first step, from planting the kale, watering, harvesting and lending a hand for the steps in getting it ready to eat below.
Wash kale – we used fresh velvet like kale that's green and purple from our garden.
Preheat oven to 250 degrees. Wash and thoroughly dry. Flat kale dries easier and quicker than curly kale. It's essential to have completely dry kale before you bake -if you have to use curly kale, use a salad spinner to dry.  You can always buy prewashed kale at the grocers. Trader Joe's carries it – it's curly but it still works.
Pour a small amount of organic canola, grape seed oil or olive oil in a bowl.
Dip your fingers in and then rub the oil into the kale leaves very lightly coating the entire back and front.
Put torn medium size pieces of kale on a baking sheet making sure they don't touch.  Place on top top or medium rack.
Bake for 5-7 minutes checking to make sure tips are NOT browning.  Chips should come out crisp (especially if you dried the kale completely).
Add a dash of salt and enjoy!  Always a hit.
My final picture doesn't do it justice -they looked so crispy in person and were delicious.
Read more about why kale should be eaten at least once a week why it's in season!