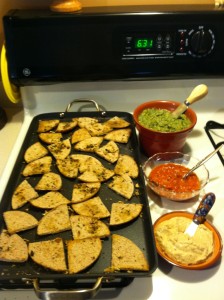 This is an easy recipe for tweens or teens to make after school in the toaster oven. For younger children, first cut the apple into smaller slices, then let them use a plastic knive to cut the apple into smaller slices or pieces. Kids also enjoy measuring and tossing ingredients.
Ingredients:
1 (7-inch) round whole-wheat pita
1/2 Golden Delicious apple
1 tablespoon honey mustard
(optional)
2 ounces Cabot Garlic and Herb Cheddar or 2 ounces of reduced or low fat Cabot Cheddar – grated (about 1/2 cup)
Directions:
Preheat broiler or toaster oven.
Cut apple into quarters and remove core from each quarter. Cut apples into very thin slices. Place in bowl and toss with honey mustard.
Place pita on baking sheet or on tinfoil for toaster oven; arrange apple slices on top. Place under broiler for about 3 minutes or until apples begin to soften.
Sprinkle with cheese and return to broiler for a few more minutes until cheese is browned in spots. Cut into wedges to serve. Then eat and enjoy them!
Check out these 8 Easy Stovetop Meals for Tweens and Teens.