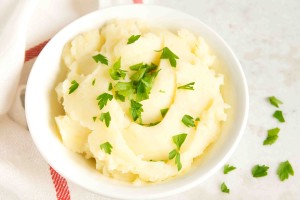 If you're cooking for the holidays, try some of the following tips and recipes. You'll be surprised at how tasty your favorite dishes will be with just a few simple, nutritious changes. Don't forget to get the kids involved!
Mashed Potato Make-Over:  Instead of starchy mashed potatoes, try pureeing steamed cauliflower florets with a little reduced fat cream cheese and parmesan cheese. Blend in garlic and top with chives for a little kick. Your family won't believe it's not potatoes! Kid Cooking Tip: Have your kids take turns pushing the button on the food processor to puree the cauliflower, under supervision, and help add ingredients once you've measured them.
Whole Grain Make-Over:  Make room at the table for whole grains! Fiber has been shown to decrease inflammation, which can cause heart attacks and heart disease. Not only are whole grains heart-healthy, but the fiber content will keep prevent you from overeating.
When making baked goods (like pies), substitute whole-wheat flour or whole wheat pastry flour for ½ or all of the white flour in recipes. Kid Cooking Tip: Have kids help you measure and add ingredients while baking. Ask them if they can spot the difference between the whole wheat (which contains the whole wheat berry, and all the fiber and vitamins that come with it) and white flour (which only contains one part of the wheat berry, the endosperm).
Serve whole-wheat dinner rolls instead of white rolls.
Revamp your stuffing by using whole wheat bread instead of white bread. Or, do away with the bread altogether and make a quinoa stuffing by subbing quinoa cooked in chicken or vegetables stock. Load it up with roasted veggies like peppers and butternut squash for some additional vitamins, minerals and antioxidants! Kid Cooking Tip: Using kid-safe knives and cutting boards, have your kids slice roasted veggies, once they've cooled from the oven
Canned Cranberry Sauce Makeover: Keep it real and make your own cranberry sauce. Canned sauce is loaded with sugar and preservatives, plus making your own is easy and much tastier! Try this recipe for a simple cranberry sauce. Kid Cooking Tip: Have kids help you measure out the quantities, and assist in safely grating the orange zest (keep those fingertips away!). Then, take turns stirring the pot. They will get a kick out of seeing whole cranberries turn to sauce! This mixture will store in the fridge for a week. It's great served with plain yogurt, sweet potatoes and, of course, turkey!
Sweet Potato Casserole Makeover: Instead of sugary sweet potato casserole, make this recipe for Cinnamon Mashed Sweet Potatoes a staple at your holiday dinner! It's always a hit at family gatherings, and beta-carotene rich foods like sweet potatoes and pumpkin will give your skin a healthy golden-glow.
Holiday Pie Makeover: Instead of the cream cheese and sugar in traditional peanut butter pie, try mixing vanilla Greek yogurt with peanut butter instead. Pour the whipped filling into an organic graham cracker crust, and top with dark chocolate chips, chocolate shavings or cacao nibs. Refrigerate for a few hours and, ta-dah, healthy peanut butter pie!
Sweet Treat Makeover: Melissa's Healthy Living founder's favorite creation is blended frozen cherries topped with fresh mint and shaved dark chocolate or cacao nibs for a festively colorful and tasty dessert! Or try blending frozen bananas with peanut butter and honey for quick, healthy "nice" cream sundae, topped with goji berry and cacao nib "sprinkles".
Edible Gifts Makeover: Instead of giving sugary treats to friends and family, have your kids help you make healthy holiday gifts, like pickled vegetables, infused oils and spiced nuts. Don't forget the mason jars for a rustic, DIY feel!