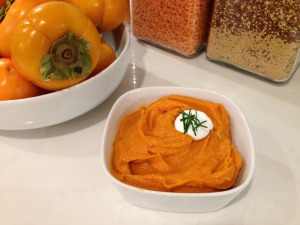 Cinnamon Mashed Sweet Potatoes
This is one of my favorite recipes ever! It's always a hit at holidays and dinner parties. I'm convinced that beta-carotene rich foods like sweet potatoes and pumpkin give my skin a healthy golden-glow.
Ingredients
3 pounds sweet potatoes
1/3 cup lowfat Greek yogurt
1/4 cup non-hydrogenated butter substitute (when possible choose sustainably grown palm)
1/4 teaspoon curry powder
1/4 teaspoon cinnamon
1/8 teaspoon ground coriander
Directions:
Preheat an oven to 415 degrees. Scrub the sweet potatoes thoroughly.
Poke each potato with a fork for venting. Wrap the sweet potatoes in pairs with tin foil. Kids can help with this.
Place the tin foil wrapped sweet potatoes on a baking sheet and into the oven. Bake for 30-35 minutes, or until the sweet potatoes are soft. Set aside to cool.
When the sweet potatoes have cooled, slip off their skins. Using your hands, break the sweet potatoes down into chunks. Transfer the sweet potato pieces to a food processor if available, or to a large bowl.
If using a food processor, pulse until the potatoes are smooth. If a food processor isn't available, mash with a potato masher or large fork until the potatoes reach the desired consistency.
Add the Greek yogurt and margarine, pulsing or mashing the sweet potatoes as you go. Season with the curry, cinnamon and coriander. Pulse or mash until combined, taking care to ensure that the spices are evenly distributed. Divide into 6 servings and enjoy!
Curried Mashed Sweet Potatoes
This recipe is based on The 52 New Foods Challenge by Jennifer Tyler Lee a must have cook book for your family!
Sweet potatoes are one of my favorite foods and a staple in my diet, for their numerous health benefits. I batch bake my potatoes and use them in different recipes over three days.  As a busy working mom, I rarely get to bake potatoes and eat them the same evening! I usually bake them late at night while working, so I have them the next few days enjoyed as different dishes. I individually wrap sweet potatoes in tin foil as it traps in the moisture and keeps in all that natural sweetness from seeping out. Plus the skins will easily separate from the meat of the potato when baked this way. I used coconut cream with this recipe, because I opened a can to use for a dessert and figured I'd try it with the sweet potatoes. I don't usually cook with coconut cream but it's always fun to try something new!
Ingredients:
2 pounds of orange flesh sweet potatoes -about 4 medium potatoes
1 tablespoon of coconut cream, you can use a butter or healthy butter substitute made with expeller pressed oils
1 -2 teaspoon of Greek Yogurt (2% or non-fat)
1/4 teaspoon of cinnamon
1/4 teaspoon of curry
1/4 teaspoon of cumin
Directions:
Preheat the oven to 400 degrees Fahrenheit
Scrub sweet potatoes
Using a fork, prick the skin of the potatoes once
Wrap the potatoes tightly in tin-foil and place on a baking sheet
Bake for 50 minutes or until they are soft all the way through when pierced with a fork
Remove from the oven, cool slightly for 20 minutes and place in the fridge until the next day or until chilled enough for the food processor
Easily remove the skins from the potato with your fork or your hands
Cut in fourths and place in the food processor
Add the above remaining ingredients and blend until you reach a smooth consistency
Heat and serve with friends and family! Enjoy.
Looking to make the perfect potato, sweet potato or parsnip fries? Then sign up for SuperKids Nutrition Healthy Eating Guides!