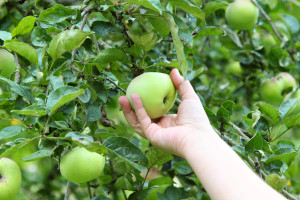 There's a reason for the phrase, "An apple a day keeps the doctor away." There are hundreds of research studies that have been backing up the health advantages of eating fruits and vegetables for decades.  And they help to paint a picture of the healthiest diet on the planet: one that focuses on a rainbow of whole plant foods, such as whole grains, legumes, fruits, vegetables, nuts, and seeds.
As a registered dietitian and author of The Plant-Powered Diet, I see the value in swapping out the traditional Western style foods high in saturated fat and cholesterol for more whole plant foods, naturally high in fiber, vitamins, minerals, and phytochemicals. And as a mom of two, I've had to make my own family traditions that revolve around plant foods. Visiting farmers markets, welcoming in the strawberry season, shucking fresh corn on the cob, whizzing up homemade smoothies, and stirring a bubbling pot of stew in the wintertime are all part of our family's own food culture.
While more and more people are taking greater responsibility for their health and nutrition, there are inevitably a few roadblocks that enter into the equation. Juggling family, work and social lives is no easy task. But, I assure you that adopting a plant-powered diet, which includes more nutrient-rich, delicious wholesome foods, is not as difficult or intimidating as it may seem. You can start out by giving Meatless Monday a try; go to the website for a great place to look for recipes and cooking tips.  And who says plant-based meals have to be complicated? It can be as simple as having a black bean burrito, vegetarian chili with cornbread, or even sautéed veggie tacos.
Try preparing these simple and delicious plant-powered recipes: