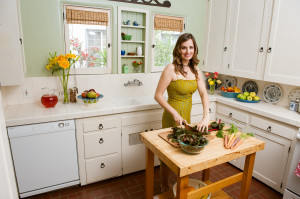 Stock up your refrigerator and pantry with readily available whole foods, so you can make healthful feeding super convenient. If healthy foods are in your home, it will be easier to avoid food struggles with your child. It's as simple as having a bowl of fruit out on the kitchen counter when your kids gets home from school; if that's the first thing they see, they will be inclined to grab a piece of fruit rather than grab "junk" food from the pantry.
Plan ahead! Before picking your children up from a long day at school, wash some fresh fruit, and bring it along with a cheese stick or a box of raisins.
Be a positive role model by eating the healthy foods you offer to your kids. Children will be more likely to eat healthy foods if their parents eat it too!
Don't limit your child's food choices to your personal preferences. Children may actually enjoy foods you do not particularly like!
Get your kids involved in the kitchen. Let them choose a recipe and then they can help you prepare the meal. Your children will love washing and tearing lettuce, chopping vegetables with plastic knives, and much more!
Get more great tips on www.superkidsnutrition.com and SuperKids Nutrition Inc Facebook page